Discover more from 5ish
5 (or so) links and thoughts a week from M.G. Siegler
Over 8,000 subscribers
Debating Debates
Boris the PM, Peak Newsletter, Emojis at Work, AT&T TV, GoT Showrunners
Hello from 36k feet, where I'm cruising en route to balmy New York City for a couple days. I'm debating watching the first night of the second Democrat debates in a bit. But also debating not watching it. The first one was a pretty big shitshow, IMO. A shitshow spread over two days, no less. There are way, way, way too many candidates right now and these early debates just seem sort of silly and ultimately, pointless, as a result. A TV gameshow for ratings with our democracy as the prize. Cool, cool.
Still, it remains pretty amazing that it is even an option for me to watch such things in real time at such altitudes. As is the fact that I can write and send this newsletter from up here — incidentally, I'm over Canada right now!
Thanks to all who left comments and feedback on my first "Thread" post last Friday. That's a pretty compelling feature of Substack — interesting way to both get feedback and have a back-and-forth. Will think about how to use it more in the future.
---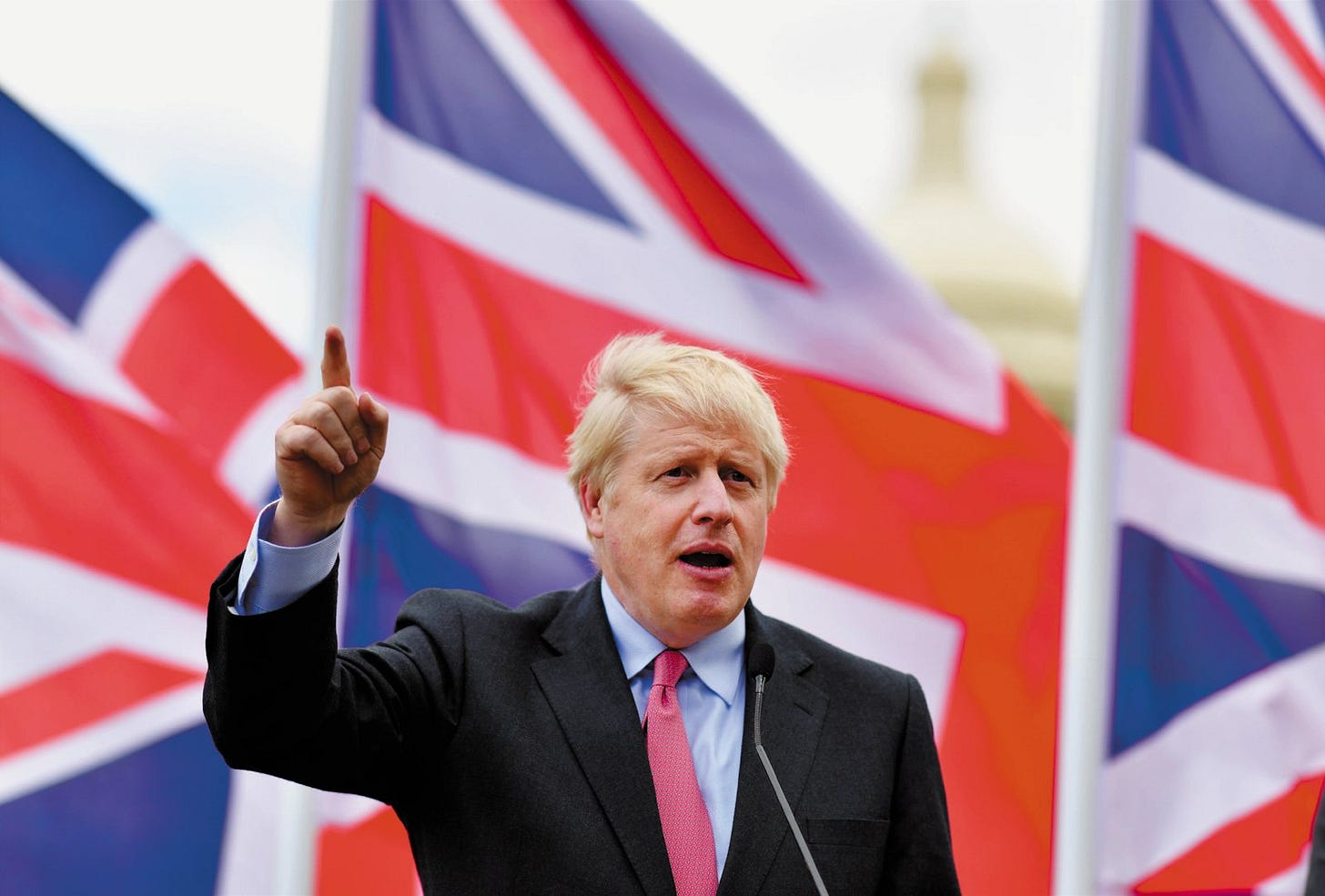 Fintan O'Toole on newly-appointed British Prime Minister Boris Johnson:
But Johnson has always understood that a vivid lie is much more memorable than a dull truth. He is a product of the tight little world of English class privilege in which the same people move from elite schools to elite universities to (often interchangeable) careers in politics and the media. (Johnson's contemporaries at Oxford included David Cameron, a fellow member of the aggressively elitist Bullingdon Club; his own main rivals for the Tory leadership, Jeremy Hunt and Michael Gove; and the political editors of the BBC and Channel 4 who now report on him.) From Oxford he soon sailed into a position as a graduate trainee at The Times. It was there that he learned a valuable lesson: it pays to fabricate stories. The Times had to fire him because he sexed up a dull story by inventing lurid quotes and attributing them to a real Oxford historian (who happened to be his own godfather). Instead of ending his journalistic career, this was the seed from which it blossomed. Almost immediately he was hired by The Daily Telegraph, which then employed him as its Brussels correspondent between 1989 and 1994.
This entire piece seemingly paints a pretty good picture of the latest clown-in-chief of the civilized (?) world. Certainly, some inside understanding of the media world would seem to be a prerequisite these days…
---
Good summary of the current state of newsletters by Claire Landsbaum. This is more bent towards the personal side of newsletters, but she also touches on the streamlined, professional ones that are increasingly taking up our inboxes. And I'm okay with that because (for the most part) they're opt-in. And I use a simple Gmail filter to have them skip my inbox and go straight to a "Newsletter" folder, which I often read during my morning coffee and/or commute.
In this way, these newsletters have collectively taken over the role of a newspaper for me. Granted, it has been a long time since I've regularly read a newspaper (certainly a physical copy), but part of me still longs for such a packaging up of the news. And newsletters do this for me, with the added benefit of linking out to far more sources of information than a newspaper would or could.
---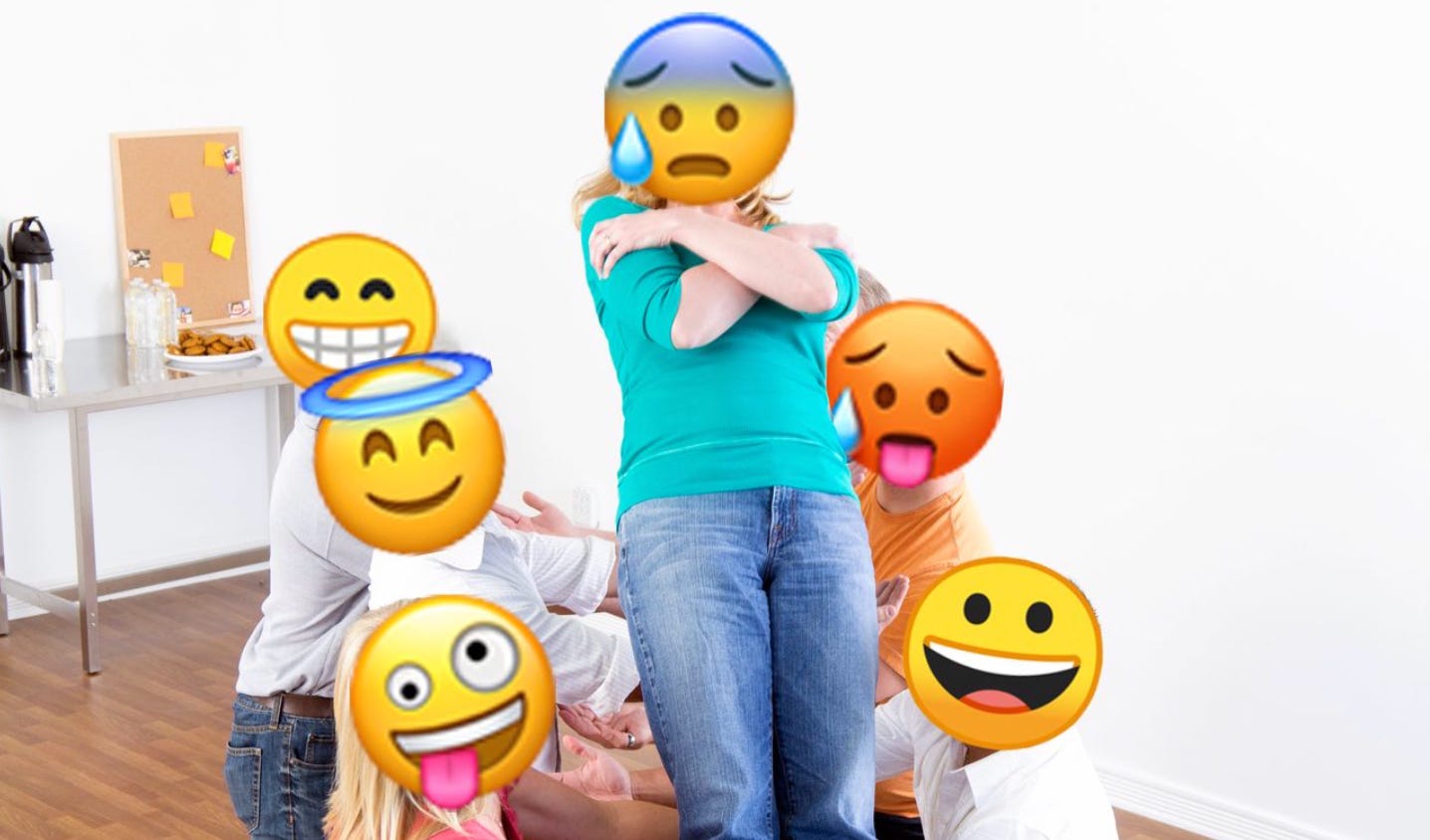 Christopher Mims:
Companies and teams often have their own cultures of emoji use, a splintering of communication methods that is only enhanced by the flexibility of this visual medium. Teams are going beyond just using reacjis and emojis to express tone, creating what is essentially a custom pictographic language, as potentially impenetrable to outsiders as Viking runes. Some companies go overboard: Slack's CTO said at a recent Wall Street Journal event that one corporate customer uses more than 50,000 custom emojis. (Slack wouldn't tell me which company it is.)
50,000 is absolutely bonkers. While the chat element of Slack gets all the buzz in terms of the disruption (literally?) of work, I think it's the tangential things that Slack brings to the table which are potentially far more profound. And one of those — as silly as it sounds — is emoji reactions. The ability to not have to respond to yet another email (or any message) may not seem like a big deal as a one-off. But in aggregate, this truly saves time — on both sides of the communication equation. And when you add to that custom emoji (or custom use-cases for existing emoji) this can be even more powerful.
---
Eli Blumenthal:
It is currently unknown what will be different about AT&T TV, particularly compared to AT&T's other streaming options such as DirecTV Now or its mobile Watch TV, which is bundled with certain unlimited wireless data plans and offers over 35 live channels including AT&T-owned TBS, TNT and CNN (Watch TV is also available as a standalone option for $15 per month).

HBO Max, AT&T's forthcoming Netflix rival that will host programming from the company's WarnerMedia group, will also offer live programming in addition to HBO, Time Warner and Warner Bros. films and TV shows.
I had saved this post to link to last week ahead of the situation getting even more ridiculous earlier today:
To which, I quipped: I look foreword to streaming AT&T TV Now via the AT&T TV app which I'll buy access to through Apple TV+ using the TV app on my Apple TV which is hooked up to my TV.
It's a joke, but it's also not!
Look, AT&T is clearly not in a great place with many of their media entities (increasingly, their own fault), but the answer is not more. Let alone Billy Idol-style more, more, more. Give users one option. (Maybe two — I still think HBO should be set apart from the other Warner stuff.) And make it great.
---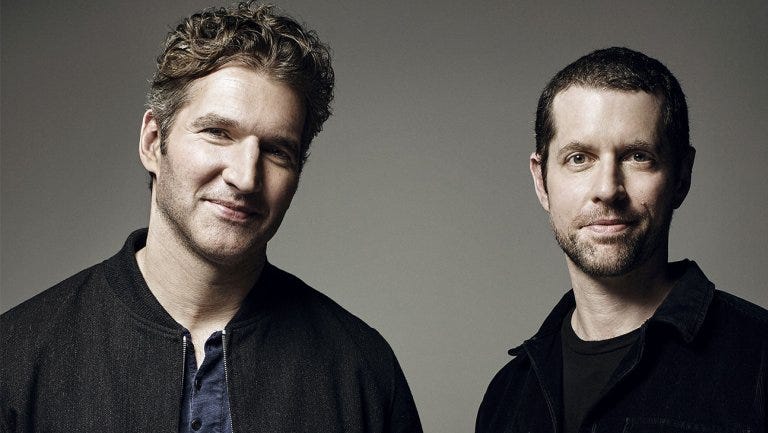 Speaking of HBO, here's Lesley Goldberg on the ongoing discussions to land a mega-deal with David Benioff and D.B. Weiss:
Sources say HBO — the duo's longtime home for the past decade — met with Benioff and Weiss' legal teams and quickly determined that they did not want to compete to keep them given the size of the deal and their looming commitment to Star Wars. Still, the two will be credited as executive producers on any and all Game of Thrones prequel series, though they declined to be involved in any sort of hands-on capacity with any of the scripts currently in development/at the pilot stage. (HBO programming president Casey Bloys told reporters this week that production on the prequel pilot has been completed.)
Given the unprecedented success of Game of Thrones across every single metric you could ever wish to count — ratings, award nominations, awards — it is wild that HBO would not even compete here. Even if you had issues with the final season, we all must admit that these are two creators you absolutely back up the Brinks trucks for…
To beat the horse more dead than White Walker horses, this does not seem to portend well for the future of HBO…
---