Discover more from 5ish
5 (or so) links and thoughts from M.G. Siegler
Over 8,000 subscribers
"I have no real leisure activity."
Tinker Writer, China Clash, Straight-to-Streaming, Network YouTube, Joker's Risk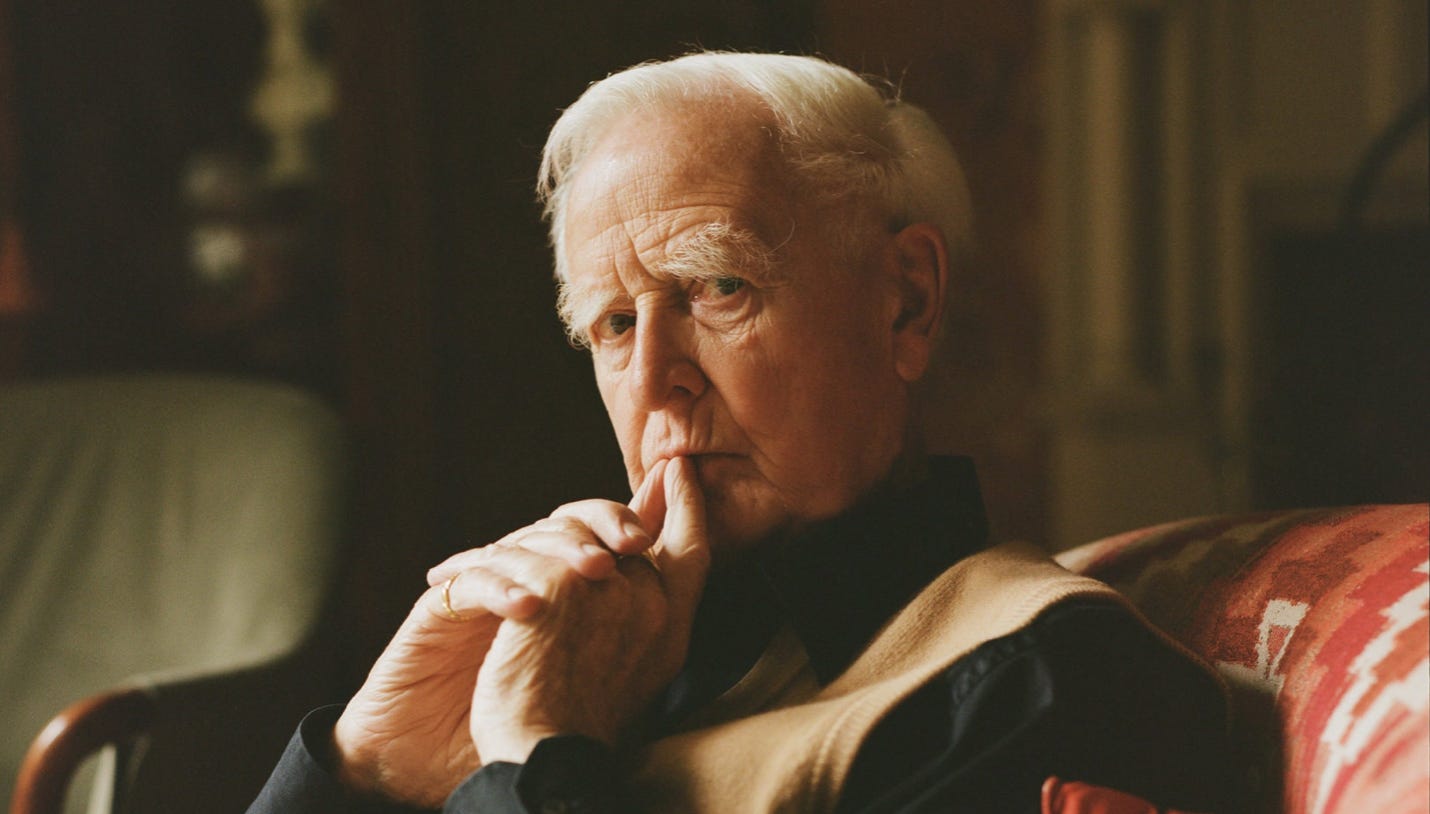 Tobias Grey sits down with author John le Carré ahead of his new book, "Agent Running in the Field" — on why he's still writing at nearly 88 years old:
"I have no real leisure activity," le Carré says. "I am dismayed when I'm not writing, completely content when I am. I also find, thus far, that I'm unaware of any relaxation of my talent. I also am stimulated and appalled by the path my country has taken."
Le Carré has his own interesting backstory:
The contrast with le Carré's con man father, Ronnie, whose wayward life inspired his mesmerizing novel "A Perfect Spy" (1986), could not have been more pronounced. "I didn't have any kind of orthodox upbringing," says le Carré, who chose a French-sounding pen name to complement his birth name, David Cornwell. "I had to write my own ethics and morality, if you like."

After college, le Carré completed two years of compulsory military service, which included running British agents into Soviet-occupied Austria. Then he returned to England and began working for MI5, the domestic branch of the British Security Service. After studying at Oxford and teaching at Eton he was recruited by MI6, the service's foreign branch, in 1960. He left MI6 in 1964 to focus full-time on writing when his career exploded with the publication of his third novel, "The Spy Who Came In From the Cold".
Also of note, his wife, Jane Cornwell, a former editor, types all of his manuscripts (he writes them in longhand) — and has done so for the past 55 years. And two of his sons have been key in adapting his work for film and television:
One of the biggest joys of my life, the greatest fun, the biggest romps, was doing 'The Night Manager' with the boys," le Carré says. "It's an amazing father-son relationship completely reversed: They're now the bosses and they consult me, pick me up and put me down as they wish."

According to le Carré, The Ink Factory now plans to do new television adaptations of all the novels featuring Cold War spy George Smiley — this time in chronological order. "That means that if you actually go back to the first big conspiracies in 'The Spy Who Came In From the Cold' you've got to consider how Smiley ages and how young he was at that time," le Carré says. That would mean finding an actor who can play younger than the Smiley incarnated by Gary Oldman in the film version of "Tinker, Tailor, Soldier, Spy". Le Carré says that his sons are interested in casting the British actor Jared Harris, whose performance they all admired in the recent TV mini-series "Chernobyl".
Um yeah, I'd watch that.
---
A great post by Ben Thompson on some of the nuance of the current cultural clashes over China, both showcased by the NBA/Daryl Morey situation, and, of course, the big tech companies. Also worth reading his follow-up (for subscribers only).
---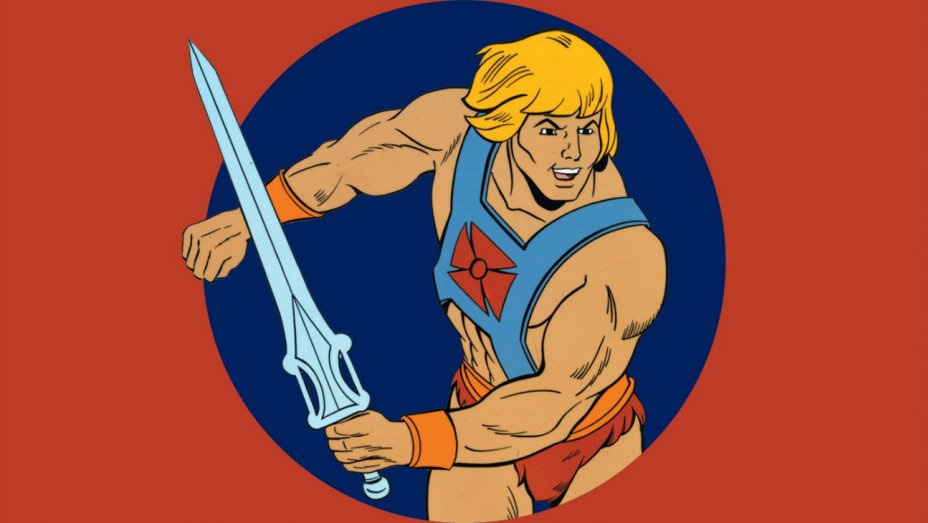 Kim Masters:
So there's the dilemma: seek a studio or financier to partner on the project, holding on to various rights and territories, or make the safe deal with Netflix (which would not seem quite so safe if the film were a huge hit and it already was sold). Studios selling to streamers is an accelerating trend: Paramount is looking into dedicating a division to that purpose, while a source with knowledge of the situation says Sony's TriStar label is devoting resources to stream­ing deals. And indie studio A24 inked a multi-year agreement in 2018 to produce a slate of films for Apple.
Sort of fascinating to think of selling-to-streaming as the new straight-to-video (something I've been thinking about for a while), but in a sense, almost the opposite: it may garner wider reach this way.
Even Warners may sell to outsiders despite its parent, WarnerMedia, allocating massive resources to its own streaming service, HBO Max. Disney and Universal are likely to sit this out for now, making movies for their own services, Disney+ (launching Nov. 12) and Peacock (debuting in April 2020).
This is, of course, what makes Disney such a formidable entrant into this world. (Universal less so, as they just don't have the same level of IP.)
As for the others, says a rep involved in a number of deals, "They have this backlog of films that isn't going to get made and released theatrically." After long seeing Netflix as the enemy, this person says, studios "are turning around and saying, 'Let's join 'em. We can't beat 'em.'" Meanwhile, Netflix is said to be looking to make a quality tentpole a quarter with international appeal, creating a healthy demand.
To go back to the notion of direct-to-video, that term obviously has a very negative connotation. But here, there are great movies that are going to be distributed straight-to-streaming, that just no longer make sense in the theater model.
---
Todd Spangler:
YouTube premiered season 2 of the scripted comedy for both YouTube Premium subscribers (who got immediate binge release of the entire season) as well as weekly episodic roll-outs with ads for free to watch on YouTube. The first episode now has more than 74 million views in just over two weeks.
This model makes so much more sense for YouTube. Rather than trying to compete head-on with all-premium Netflix and the like, YouTube can leverage their massive (mostly free) user base and upsell the super fans for things like the ability to binge. And doing episodic roll-outs for non-premium users is clever as well.
Is this the new network television vs. cable television dynamic forming in front of our eyes? 74 million views!
---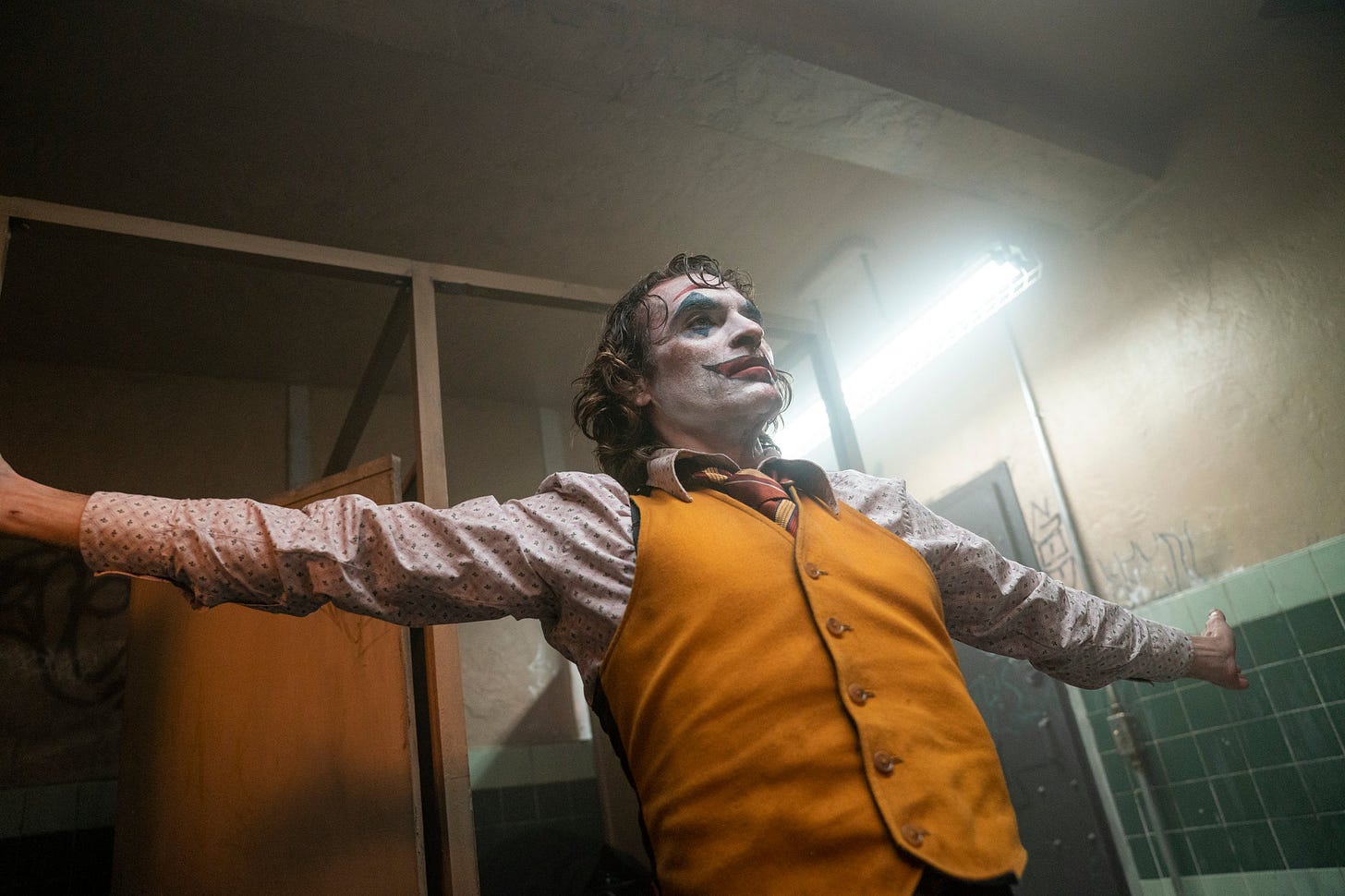 Brooks Barnes and Nicole Sperling:
"Joker" got its start in 2016, when Todd Phillips, who had directed men-behaving-badly comedies for Warner Bros. like "The Hangover" and "Old School," told Greg Silverman, then the studio's president of creative development and production, that he had a wild idea. Mr. Phillips wanted to make a gritty character study of the Joker in the mold of "Taxi Driver," dispensing with the cartoon, buildings-imploding fantasy of most superhero movies and placing the story more squarely in the real world.

"A way to sneak a real movie in the studio system under the guise of a comic book film," as Mr. Phillips recently recalled in an interview with The Wrap, an entertainment news site.
Clever way to navigate the current Hollywood reality. With the right studio to do it:
In the past, some of Warner's most lasting hits came by leaning into risk and producing films that wowed audiences while saying something sharp about the broader culture. Warner Bros. was the studio that made "Natural Born Killers" (1994), about the media's egging on a couple on a murderous spree, and had backed "A Clockwork Orange," Stanley Kubrick's 1971 movie about violent young sociopaths. Maybe part of the way forward for Warner Bros. was to embrace its rabble-rousing past.
And the gambit has paid off. Boy has it.
---
A couple recent 500ish posts…
Some thoughts on the latest keynotes from Amazon and Microsoft as they evolve beyond the old Apple playbook…
Speaking of Joker, here are some of my own thoughts on the utterly disturbing and engrossing film.
---
More thoughts on the brilliance of Succession soon…