Discover more from 5ish
5 (or so) links and thoughts a week from M.G. Siegler
Over 8,000 subscribers
"I'm delivering Mr. Sinatra's Listerine."
Iger Out, Apple Loses, Netflix Loses, Third Party Apps Win, Apple Wins, Iger In
The resignation of Bob Iger as Disney's CEO today was obviously a surprise. Less because of the move itself and more because he has multiple times said he was going to leave the role by a very specific date — and multiple times has shifted that date. The latest such date was sometime in 2021, and it's currently the beginning of 2020, so this is… abrupt. Also, he's not actually leaving. But rather is running the company's creative side. Which is… what Disney does. It's like Ace Rothstein in Casino changing job titles while still doing the same job — running the casino.
So I guess this is one way to exit gracefully and orderly, but it's still weird. Especially in the midst of a potential pandemic which has major ramifications for Disney's business. And on the verge of a presidential election when a certain someone's name keeps getting thrown around as a future political contender… Last almost-resignation, Iger was on the verge of taking over the Chargers and/or Raiders in the NFL. That failed, and he re-upped at Disney. If he doesn't land a VP slot — or some high-level position in a future administration, does he just keep switching jobs at Disney, while continuing to run the show?
Regardless, seems a great time to point out one of my favorite parts of his recently released autobiography (this news will juice sales!):
Nervous and out of breath, I knocked on the dressing room door, mouthwash in hand. The door swung open, and I was greeted by an imposing bodyguard, who wanted to know what the hell I was doing there. "I'm delivering Mr. Sinatra's Listerine," I said. Before he could respond, I heard that familiar voice, from somewhere deep in the room: "Let him in." Moments later I was standing in front of the Chairman of the Board.

"What's your name, kid?"

"Bob."

"Where're you from?"

For some reason I said, "Brooklyn," which is where I was born and lived until my family moved to Long Island when I was five years old. I think I must have wanted to seem more real to him in some way, and "Oceanside" didn't quite have the same romance.

"Brooklyn!" Frank said, like it was the next best thing to Hoboken, and then he handed me a crisp hundred-dollar bill. When the show ended, he gave every member of the crew a sleek gold cigarette lighter, inscribed LOVE, SINATRA. I spent the hundred dollars almost immediately, but the lighter sits in a drawer in my desk to this day.
From Listerine to Baby Yoda — hell of a run.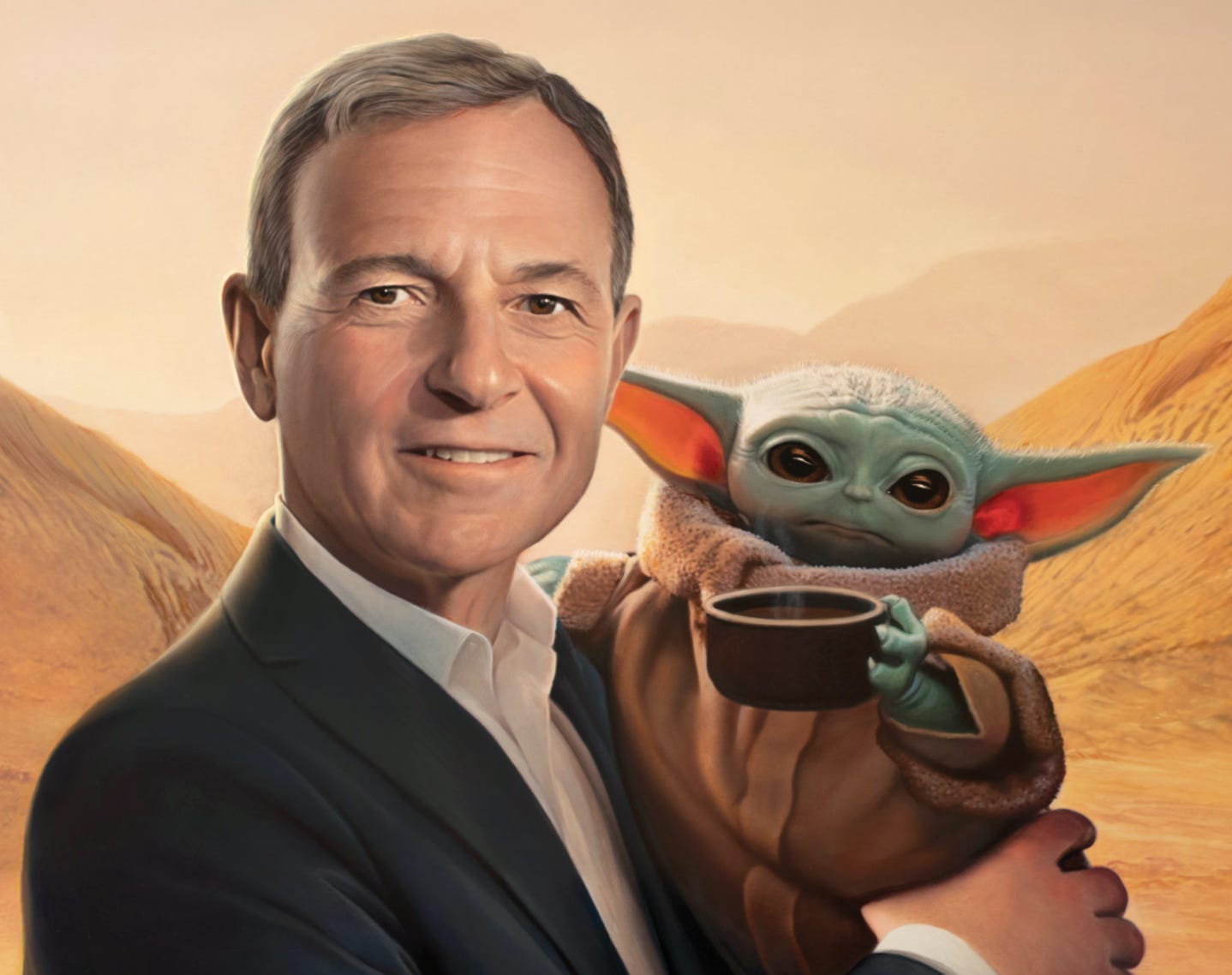 ---
Apple and Oscars and Apple at the Oscars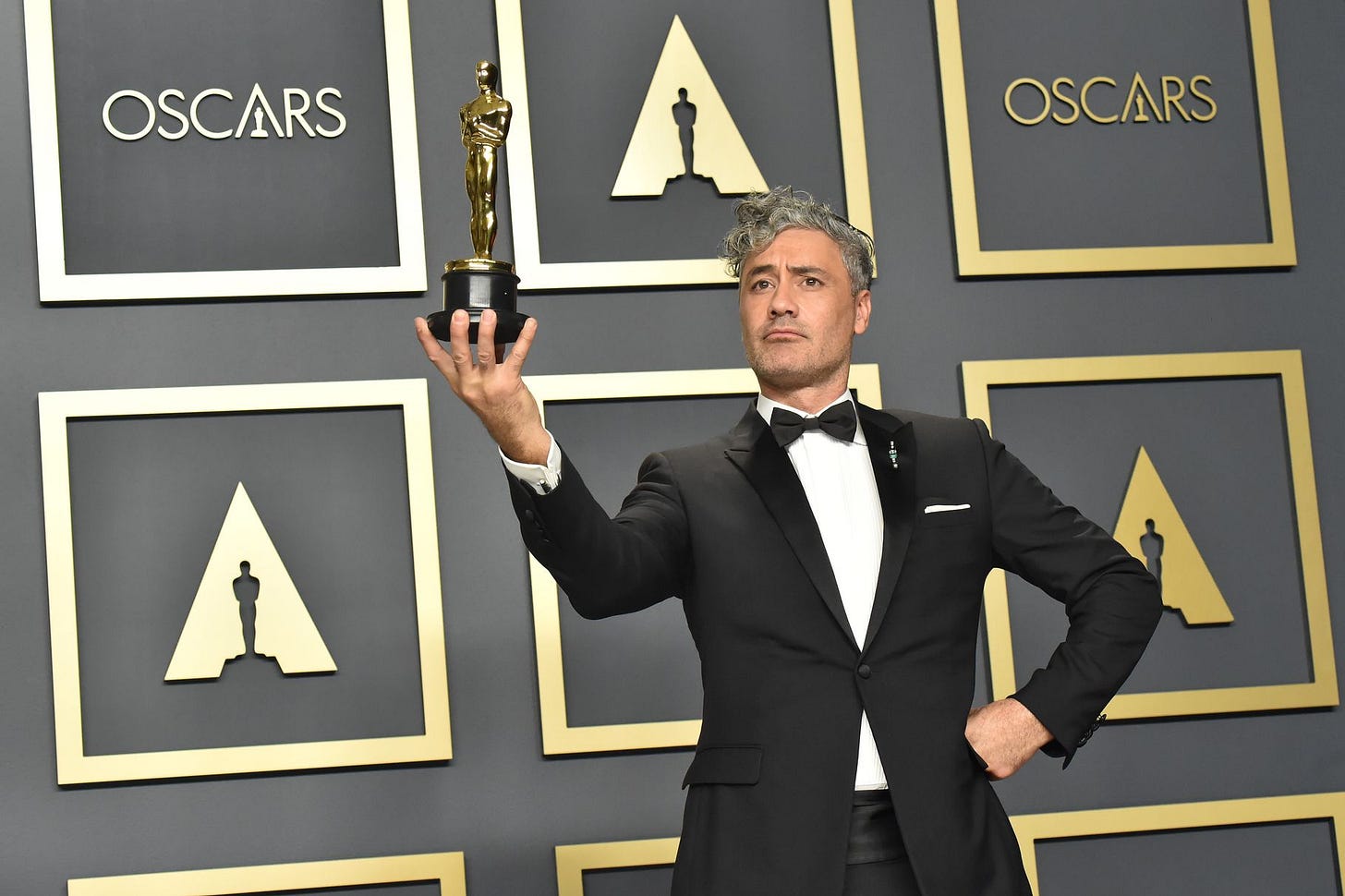 Nearly a month later, I still can't believe Taika Waititi did this — during his Oscar-winning press conference…
Speaking with journalists after winning his first Oscar for Best Adapted Screenplay, Jojo Rabbit and Thor: Ragnarok director Taika Waititi had other things on his mind. When asked what he thought writers should be demanding in the next round of discussions with producers, Waititi put Apple's controversial laptop keyboards on blast.

"Apple needs to fix those keyboards," he said. "They are impossible to write on — they've gotten worse. It makes me want to go back to PCs. Because PC keyboards, the bounce-back for your fingers is way better. Hands up who still uses a PC? You know what I'm talking about. It's a way better keyboard. Those Apple keyboards are horrendous."
It's hard to imagine worse press you could get, outside of someone dying from using the machines. And even then, that would undoubtedly be a fluke situation — this is something every user of these devices has had to deal with for years at this point. And that's part of why it went viral, of course. It's funny because it's not funny.
Because it's true.
While obviously the company is working to rectify the situation — the 16" MacBook Pro is the first new/old keyboard — it's hard to describe just how badly Apple fucked up here (a general trend?). And it feels like they did so because they tinkered to tinker. They took something that was beloved — the MacBook — and pushed the envelope too far. Said another way: they focused on how it looks, not on how it works.
---
Speaking of the Oscars, this strikes me as a funny use of "only". Sure, it's a small percentage relative to the nominations they received. But it's still two Oscars for a company that wasn't even making movies just five years ago. That's sort of incredible.
It also misses a key point, I think. The winning is icing on a cake that Netflix is enjoying very much. The company got 24 — twenty four! — nominations this year. Winning may not be an afterthought — I'm sure they cared about it, but mainly because the talent cared about it. When I hear 24 nominations, I hear 24 more reasons to sign up for Netflix. The nominations are a win in their quantity.
---
Back to Apple, here's Mark Gurman:
The technology giant is discussing whether to let users choose third-party web browser and mail applications as their default options on Apple's mobile devices, replacing the company's Safari browser and Mail app, according to people familiar with the matter. Since launching the App Store in 2008, Apple hasn't allowed users to replace pre-installed apps such as these with third-party services. That has made it difficult for some developers to compete, and has raised concerns from lawmakers probing potential antitrust violations in the technology industry.
This will truly be a huge moment. A falling of a wall. And it's long overdue, of course. Regardless of the motive here — it makes the iPhone better. Also:
Opening the HomePod to additional music service may be a boon for the product. The speaker has lagged behind rivals like the Amazon Echo in functionality since being introduced in 2018 and owns less than 5% of the smart-speaker market, according to an estimate last week from Strategy Analytics.
This will of course make the HomePod better as well. But I still suspect it won't really move the needle for that product. It's a really nice speaker, with a really bad strategy.
Speaking of potentially external drivers forcing Apple's hand, how long until the 70/30 app monetization split is shaken up in a real way? I'm still betting on sooner rather than later. And this will also make Apple better as a result.
---
Speaking of those pesky MacBooks, here's John Gruber on the Ming-Chi Kuo report that we might see Apple-designed ARM chips in MacBooks in the first half of 2021:
The reason for Apple to move Macs to its own in-house ARM chips is much simpler than that. (1) Apple's laptop chips are better than Intel's — they're faster and more power efficient. (2) Using their own chips puts Apple in control of its own timeline for product updates. Why did it take so long for Apple to get the retina MacBook Air out the door? The one-word answer I was told by a high-perched little birdie: Intel.
And:
I could see Apple having a more accelerated timeline between announcement and hardware starting to ship with this transition, but I still think they'll announce it at WWDC to give developers time to recompile Mac software to run natively before any hardware actually ships to consumers. I do not think x86 apps running in emulation on ARM Macs are going to perform well. I wonder, really, if Apple will even offer x86 emulation at all.
If they do in fact announce this at WWDC, that's potentially just three months away. Of course, the first products would presumably ship quite a bit later than that. Though who knows, maybe the aforementioned keyboard fuckup mixed with Intel's incompetence has moved the timeline up a bit… I can't wait.
---
500ish Words
Make the shitty ads stop while trying to read on the web. Please.
The age old debate: the tech press v. the tech insiders.
---