Discover more from 5ish
5 (or so) links and thoughts from M.G. Siegler
Over 8,000 subscribers
Knives Out for Content
Baby Yoda, Windows 2020, Quibi Clip, Bud Light Seltzer, Good Newsletters
Busy week. As such, I'm reverting back to a bit of the old newsletter format, mixed with a few of the newer things I've been trying, based on feedback some folks sent along (thanks much!). Hope those in the US have a good, long weekend. I'm looking forward to catching up on some reading and maybe some of the 10,000 incredible television shows that none of us have time to watch. Maybe even Halt & Catch Fire. Maybe.
---
Links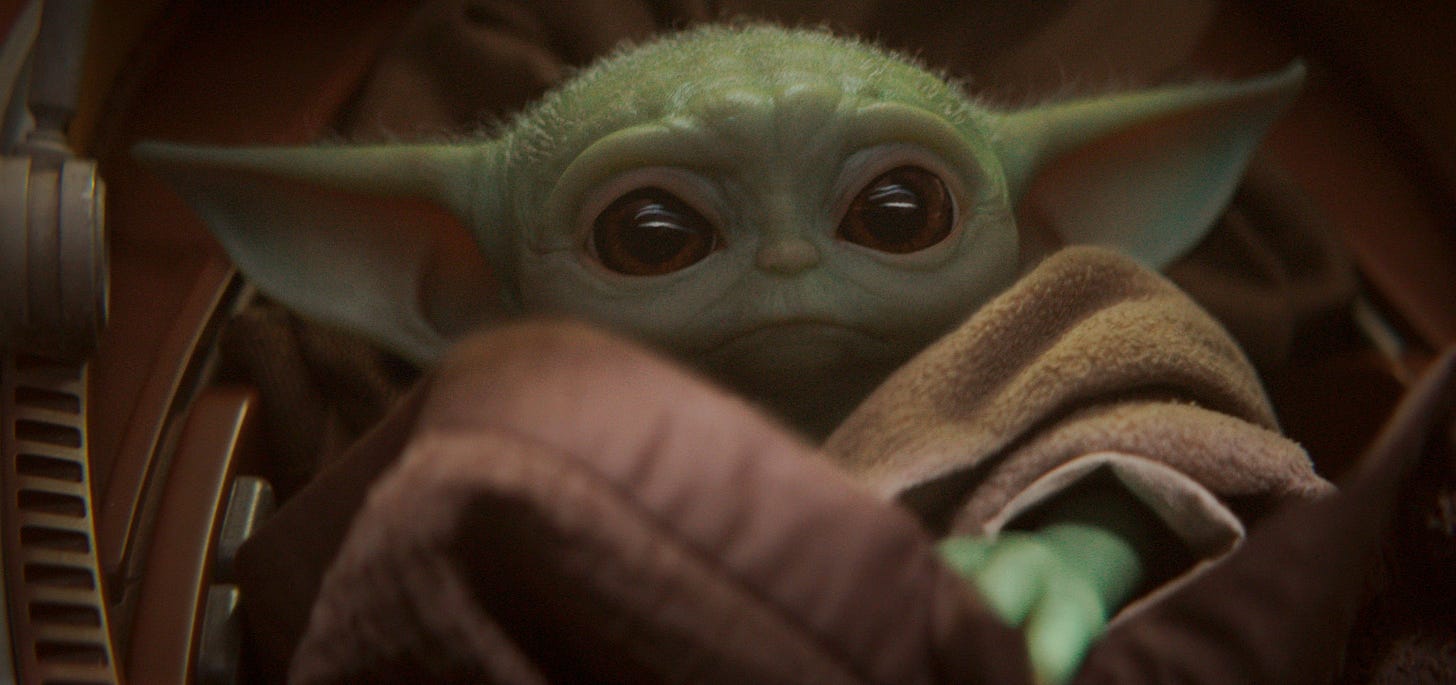 The title is a little silly, James Poniewozik has some good points:
"The Mandalorian" is a delightful and artful entertainment. It's also Disney saying, yes, we will re-gift you your childhood, over and over — but it will also be new, and cute, and genuinely inventive, and tweaked just an acceptable amount. It will gainfully employ brilliant people like Werner Herzog and Amy Sedaris. It will use the talents of visual artists who will combine the best of popcorn movies and art film, within the parameters of the franchises we need them to work in.

And you will help create it! Part of what made Baby Yoda a phenomenon was that he did not feel imposed from above — "Baby Yoda" is our name, not Disney's — and his character, his place in the year's pop vocabulary, was created as much by the fans smithing online memes as it was by the show itself.
It really is sort of wild that Disney — the masters of marketing — were caught by surprise by the "Baby Yoda" phenomenon. Sure, part of it was undoubtedly to help keep the secret. But they whiffed on merch during the most vital time of the year: the holidays. And The Mandalorian had teed it up perfectly…
Anyway, my main takeaway from the show is that Disney made a bigger mistake: Jon Favreau should have directed the latest Star Wars trilogy. Rather than having J.J. Abrams reboot only to have Rian Johnson negate only to have Abrams negate the negation, Favreau showcased how you mix nostalgia with newness, in a show, no less.
Steven Sinofsky gathered up a series of tweets on this topic to give us a compelling read. This part in particular resonated:
In planning what came next (started in 2009), the optimism was not uniformly shared. The product view was we were experiencing a "blackberry moment". While financials and numbers looked good, it was increasingly clear the product was wrong. The short answer "we'd seen iPhone".
Ah yes, anagnorisis!
Adam Rogers sits down with Jeffrey Katzenberg and Meg Whitman to talk Quibi after the big reveal at CES.
"The 'show' part is the next turn of the evolution of story structure, he says. Movies are a couple of hours of story meant to be consumed in a gulp; TV shows you can choose to see as either a unit of 22 minutes or 42 minutes (that's show minus commercials), or as a however-many-hours-long story taking one season or many.

But in all of those formats, the secret, irreducible unit is the act. As in a play, these are story subsections, akin to chapters. Movies have them, though smart screenwriters disagree about how many and how long they ought to be. In radio and broadcast TV, commercials became de facto act breaks—an hour-long show has roughly five, in the modern construction. "And the first act break is always at—" Whitman says.

"—eight and a half minutes," Katzenberg finishes.
Most people — including the people in charge of Quibi! — talk about the service as a mobile-first Hollywood-quality video play. And that's fine. But there are some fundamentals, such as the above, that are actually more interesting from a consumption-perspective. Think of it this way: how many people do you know that talk about how they love watching a show like The Office because it's 30 minutes (actually 22, per above) versus an hour, let alone multiple hours?
Even in our era of "peak TV" where binge-watching rules, there would seem to be a space for some counter-programming here.
That being said, all the will ultimately matter is how good or bad the content actually is. If there's nothing that's a "must watch", the service will fail. The good news (for Quibi) is that they have billions of dollars to keep trying to find those hits again and again and again. The bad news is that it's harder than ever to convince people to take time away from the services they already use to give your content a shot. (The screen-rotation trick may at least give them a vector to get people in the door at least…)
A Baby Yoda, they need.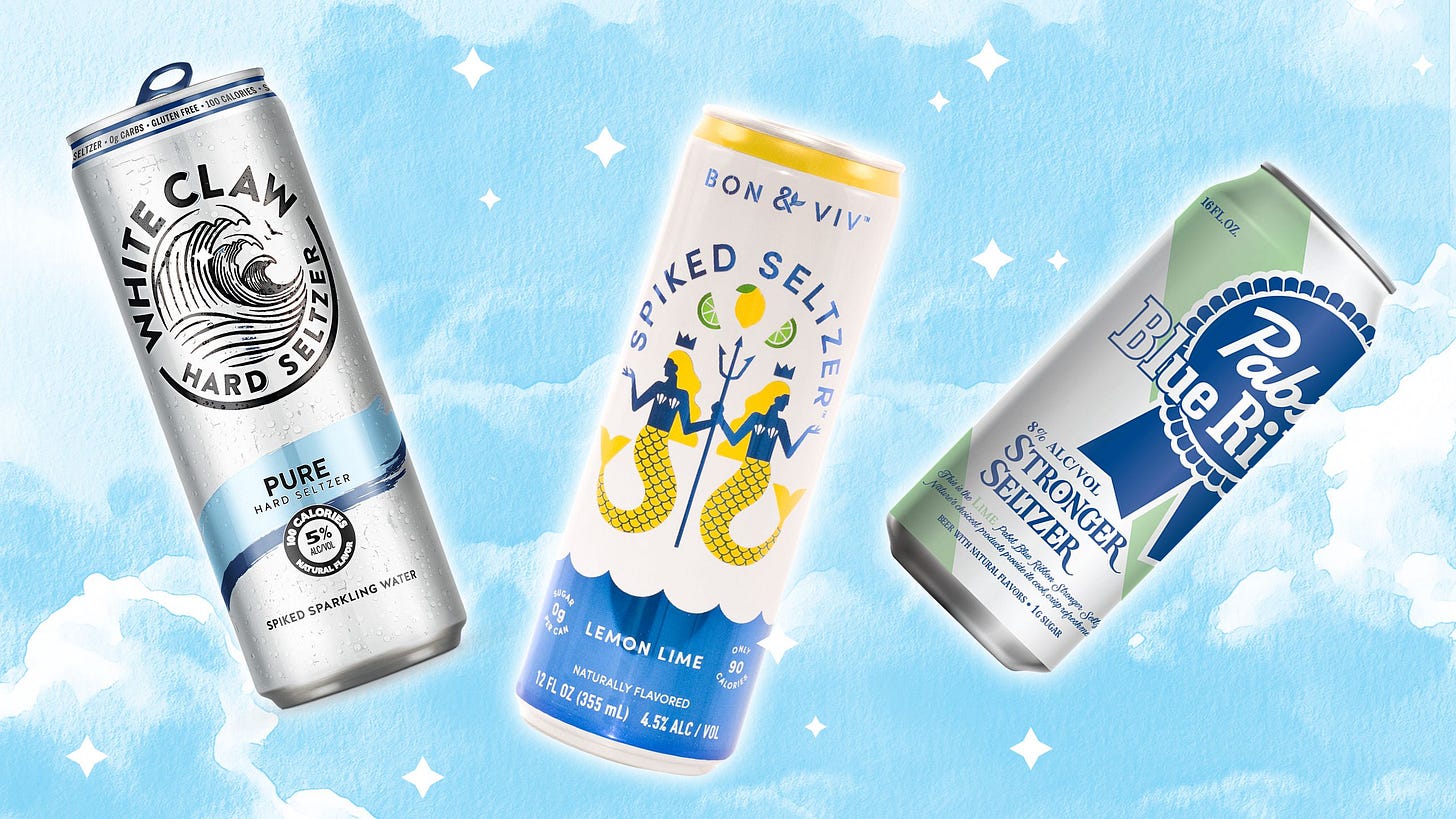 After making fun of Bud Light Seltzer — seriously, WTF?! — I was directed to this piece about the "hard seltzer" revolution from last summer by Rebecca Jennings:
"It is difficult to overestimate the hugeness of hard seltzer to people who study the business of alcohol, but here are some exact figures: Hard seltzer is currently a $550 million business and is projected to keep growing, with one UBS analyst estimating to Business Insider that it could be worth $2.5 billion by 2021. Sales of hard seltzer have grown about 200 percent over the past year, with 164.3 percent of that growth occurring in July alone, according to Nielsen."

"Half of those sales are concentrated on a single brand: White Claw, which is owned by Mark Anthony Brands, the owner of Mike's Hard Lemonade. It and the next leading brand, Truly, which is owned by Boston Beer Company, together make up about 85 percent of total hard seltzer sales. As of this year, every major beer company has at least one hard seltzer on the market, as beer continues to lose market share in favor of less alcoholic, less caloric options."
Which is to say, the White Claw revolution. "Healthy" drinking? Pure marketing? Some mixture of the two? As someone old enough to remember Zima, I find this trend fascinating. And I'm going to go out on a limb and predict that Bud Light Seltzer is a total fail. It's the Crystal Clear Pepsi of beer (which is not even beer, of course).
Craig Mod has some excellent thoughts on some basic things that a good newsletter should do. I do almost none of them, but still, good thoughts.
---
Asides
Gladys Bourdain, a New York Times copy editor, passed away this past week at the age of 85. She was, of course, also the mother of Anthony Bourdain. And I didn't realize just how vital she was to helping her son get his big break. Also try not to get choked up when you read this: "Ms. Bourdain memorialized her son with a tattoo of his name on her wrist — her first and only tattoo."

The Oscars are going host-less again. Which I think is a good thing — it worked fine last year — but it is kind of wild that we live in a world where what was once consider the most prestigious hosting gig is not only that — it has now been completely eliminated, and people are happy about it.
---
Speaking of Rian Johnson…
Also, Knives Out was great. Highly recommend.