Discover more from 5ish
5 (or so) links and thoughts from M.G. Siegler
Over 8,000 subscribers
Pale Blue Dot
Plex Piracy, Biggest Movie, Klay's Shoes, Plane WiFi, Rainbow Apples
In yesterday's newsletter, I talked about the notion of Apple tying in their rumored premium podcast content to their other paid offerings. Namely, I mentioned that it should be a part of the forthcoming Apple TV+ package. But 5ish subscriber George Creasy wrote me about my obvious miss: this should be included with your Apple Music subscription. Yes, of course that's the more obvious bundle idea — especially given the Spotify competition. But I also still think Apple should create a one-bundle-to-rule-them-all offering. Thanks, George! (Also thanks for all the responses about this area — including a number of your that felt I would be okay doing nothing here and just going straight to the links. Still thinking on it. For now, on to the links!)
---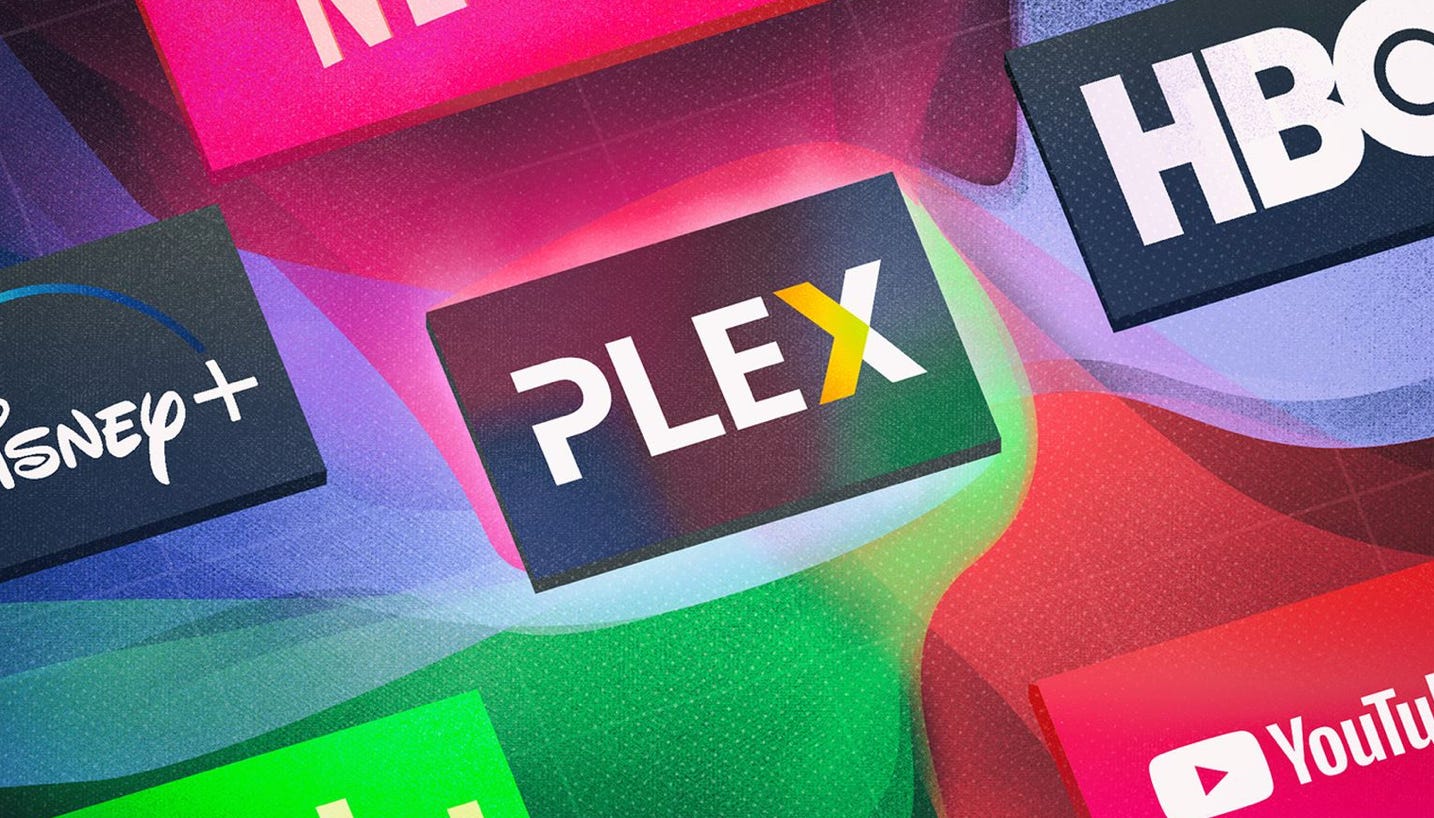 Bijan Stephen:
To put it differently: today, piracy looks like what the futurists envisioned about streaming media. You sign up for a service, stream as much as you want, and itjust works. Most of the people I spoke to for this story had the same experience. By and large, they're internet-savvy people who needed a solution to a home media problem and stumbled across an off-label use that doesn't necessarily feel illegal.
This topic is undoubtedly worthy of an entire post on the matter, but for now, it seems to me that this could actually become a real trend. That is, a return to piracy. But this time with video, rather than music, as the central focus. And unlike with music, it won't be because there is no good way to get the content legally over the internet (while there was a great way illegally in Napster). It will be because the powers-that-be in video have splintered the market across a dozen streaming services, each of which you must pay for separately to get the content legally.
That is not sustainable. The question is if some of those companies/services go under and/or decide to consolidate/team-up before consumers look for other options to get the content. The Plex option about is the latter, but it's still pretty fringe.
What's interesting is that by most accounts this is a problem Apple was trying to solve with their television intentions before Apple TV+ came about. And more recently, it's sort of the problem Amazon Prime Channels has been solving. But there is no perfect solution for everything, and it's only getting worse. So does Apple allow the pain of piracy once again as leverage to create such a service? Can they now that they have their own Apple TV+ streaming service, which complicates such a playbook?
---
CNBC compiled this list on the news that Avengers: Endgame had passed Avatar for the biggest movie of all time in terms of box office revenue (worldwide, by the way — in the US, Star Wars: The Force Awakens remains king — Endgame is and will remain #2, ahead of Avatar). It remains a silly way to track records, of course, as the adjusted for inflation list showcases. And, for the record, Box Office Mojo has been tracking the inflation-adjusted list for years.
One thing of note: there are no — none — zero — movies in the inflation-adjusted list that are sequels/spin-offs/remakes. The closest one of those to this top 10 is The Force Awakens at #11 (there are four Star Wars sequels in the 11-20 range). The only other sequel is Endgame at #16 — yes, the behemoth blockbuster of our summer would only be the 16th largest movie of all time in the US when inflation-adjusted.
---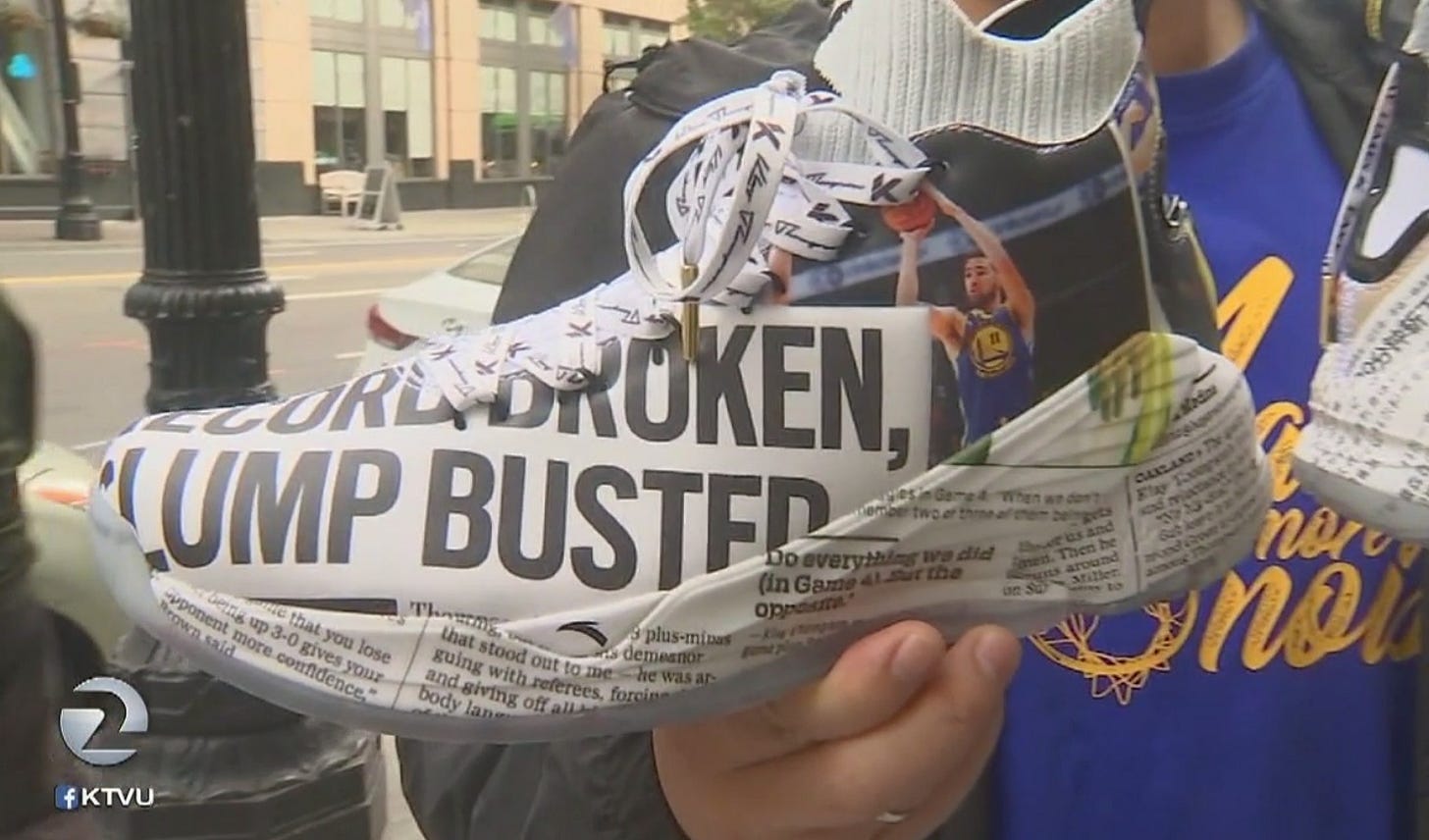 How awesome is Golden State Warriors shooting guard Klay Thompson? This awesome. Duncan Sinfield:
Priced at $179.99, the shoes come with a one-year subscription to any Bay Area News Group paper. The remaining 10,000 pairs will be sold exclusively in China at a retail price of $390.

The Bay Area News Group has dubbed Thompson as the "brand ambassador" spanning its individual newspapers: The Mercury News, East Bay Times, and the Marin Independent Journal.

The partnership sprouted from his unique pregame locker routine that he credits to his mother, Julie.

"She just suggested to read the paper before games, get away from looking at the screen," Thompson said about his mother, Julie Thompson.
I mean, just look at these things. Did Thompson drive more subs to newspapers with this move than any other promotion in the past decade? It's a serious question! Maybe only the election of Donald Trump tops him?
---
Scott McCartney:
United, which has satellite-based service on its flights, says it also adjusts prices based on passenger demand. "Part of that is to ensure enough bandwidth for users, making it a better experience," a spokeswoman says.

While satellite systems have a lot more capacity, overload can be an issue, especially with older satellite equipment. It's not just the people on your flight competing for bandwidth, but perhaps the 100 airplanes in the area, or 1,000 all hitting the same satellite and possibly slowing down service.
I honestly had no idea United (or other airlines) did these demand-based adjustments — surge pricing! But it makes sense given that I've been on flights where the WiFi is something like $40 — which is more expensive than some international flights with WiFi that I've been on. And yes, it makes sense as a way to try to deter usage, to ensure they can handle the demand of those willing to pay, obviously!
I also had not considered that it's not just your flight, it's all the flights in the area. Much like the days when all houses in a neighborhood shared the same DSL bandwidth.
Anyway, it remains the ultimate first-world problem to complain about slow WiFi on airplanes — you're on a fucking airplane, 35k feet in the sky, with access to all the world's information — but at the same time, I'm 100% in the camp that I would rather have no internet (provided I knew that ahead of time) than extremely slow internet on a plane. So I'm wary of the notion that it will soon be a free perk across the board…
---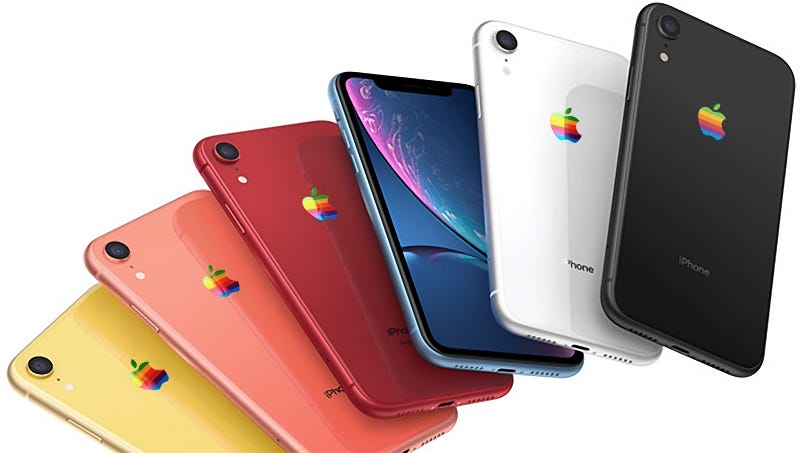 Joe Rossignol:
Apple's rainbow or "six-color" logo made its debut on the Apple II computer in 1977 and was widely used until 1998, when it began to be phased out in favor of a monochrome Apple logo similar to the one used today.
First thought: this would be awesome. You could totally see them doing this to add some flair to the iPhone XR.
Second thought: would this be considered the first post-Ive design move?
Third thought: please let this mean that they're also thinking about bringing back the glowing Apple to the back of the MacBook. It remains such a good, if inadvertent, bit of viral marketing that even Apple itself is still constantly using it in promos and videos even though they no longer sell such a device.
Here's a little bonus idea: what if Apple somehow brought the glowing Apple to the premium iPhones? Imagine a logo that illuminated to indicate a notification (hardly a new concept with BlackBerry, camera flashes, accessibility, etc). Bonus of a bonus: if you could assign different colors for different types of notifications. I don't even know if this is technically feasible (also, it would admittedly be yet another distraction in our oft-distracted lives), but I want this.
---