Discover more from 5ish
5 (or so) links and thoughts a week from M.G. Siegler
Over 8,000 subscribers
Rearviewmirror
Pearl Jam, Dr. Disrespect, Dr. Smallpox, and a Social Distance Sim

Yesterday, Pearl Jam released a new album. Listening to it, two things struck me. On the positive side, my favorite band had just released new music — and in our current environment, any new content is welcome, and great new content is most welcome. On the negative side, I couldn't shake this weird feeling that such a release was now somehow inconsequential. That's not about Pearl Jam necessarily, it's about the way in which music is now released.
I vividly recall being a teenager and waiting in line for a record store to open at midnight to buy the latest Pearl Jam album. It was hardly a hardship, but it required effort. And money. Now, a new album just magically appears on my phone. And assuming I have Spotify/Apple Music/etc, I don't have to pay anything I wasn't already paying for it. Don't get me wrong, such convenience is great. But something is also lost when absolutely no effort is required to obtain what you want.
Because of said effort, I would listen the hell out of those albums, grinding cassette tapes into the ground, and warping CDs. Now, I'll probably listen a few times but then something new will come along next week. Actually, hundreds of things will.
None of this is a particularly new "problem" of course. And yes, it's a silly thing to complain about. We now live in a world where basically all of recorded music is at our fingertips at all times. This would have been nirvana (the place, not the band — but also the band) to 13 year old me. But it is top of mind because this is the first Pearl Jam album in seven years, and as such, the first in the streaming era. I miss when such releases were bigger deals because of the time and effort required to obtain them. And I really miss obsessing over the album artwork inserts.
---

Bijan Stephen dives into the backstory of Twitch star Guy 'Dr. Disrespect' Beahm:
That was when his current business partner, Sumit Gupta, came to him with an offer to work at his startup — Boom.tv — where he was developing some new streaming tech based around VR. But it wouldn't be a desk job; Beahm would be helping Gupta figure out the streaming landscape, starting with setting him up to stream on Twitch. And so Gupta said: "Hey, what do you think about reviving your old Doctor character?"

He was in his 30s; he wasn't a kid anymore. He was choosing between another Triple-A job and an as-yet-unknown momentum, and the week Gupta gave him to decide was up. I've already offered this. Either you're on board or not, Beahm recalled him saying. "And it's like, fuck all right."

"The gambit worked, and the fans began to trickle in, which is the hardest part of doing anything on the internet; that goes double for Twitch. Finding an audience there is a mysterious business, maybe than anywhere else online. Part of that is because you have to convey the force and depth of your personality to other people, live, and part of it is because it's exceedingly difficult to get people to care about what you're doing until you're already far enough along that it doesn't matter. You have to bet on yourself, again and again and again. And even then, it might not work. You almost never get to quit your day job."
While I'm no Dr. Disrespect, this resonates with me pretty strongly as it's essentially what I lived for years — blogging into the ether with very little response. Months became years. Then slowly but surely, readership started to trickle in. And now here you are, reading this!
---
Great interview of Larry Brilliant by Steven Levy:
"I'm in the age group that has a one in seven mortality rate if I get it. If you're not worried, you're not paying attention. But I'm not scared. I firmly believe that the steps that we're taking will extend the time that it takes for the virus to make the rounds. I think that, in turn, will increase the likelihood that we will have a vaccine or we will have a prophylactic antiviral in time to cut off, reduce, or truncate the spread. Everybody needs to remember: This is not a zombie apocalypse. It's not a mass extinction event."
Good news.
"This is a really unprecedented and difficult time that will test us. When we do get through it, maybe like the Second World War, it will cause us to reexamine what has caused the fractional division we have in this country. The virus is an equal opportunity infector. And it's probably the way we would be better if we saw ourselves that way, which is much more alike than different."
Better news. Seriously, just read the whole thing.
---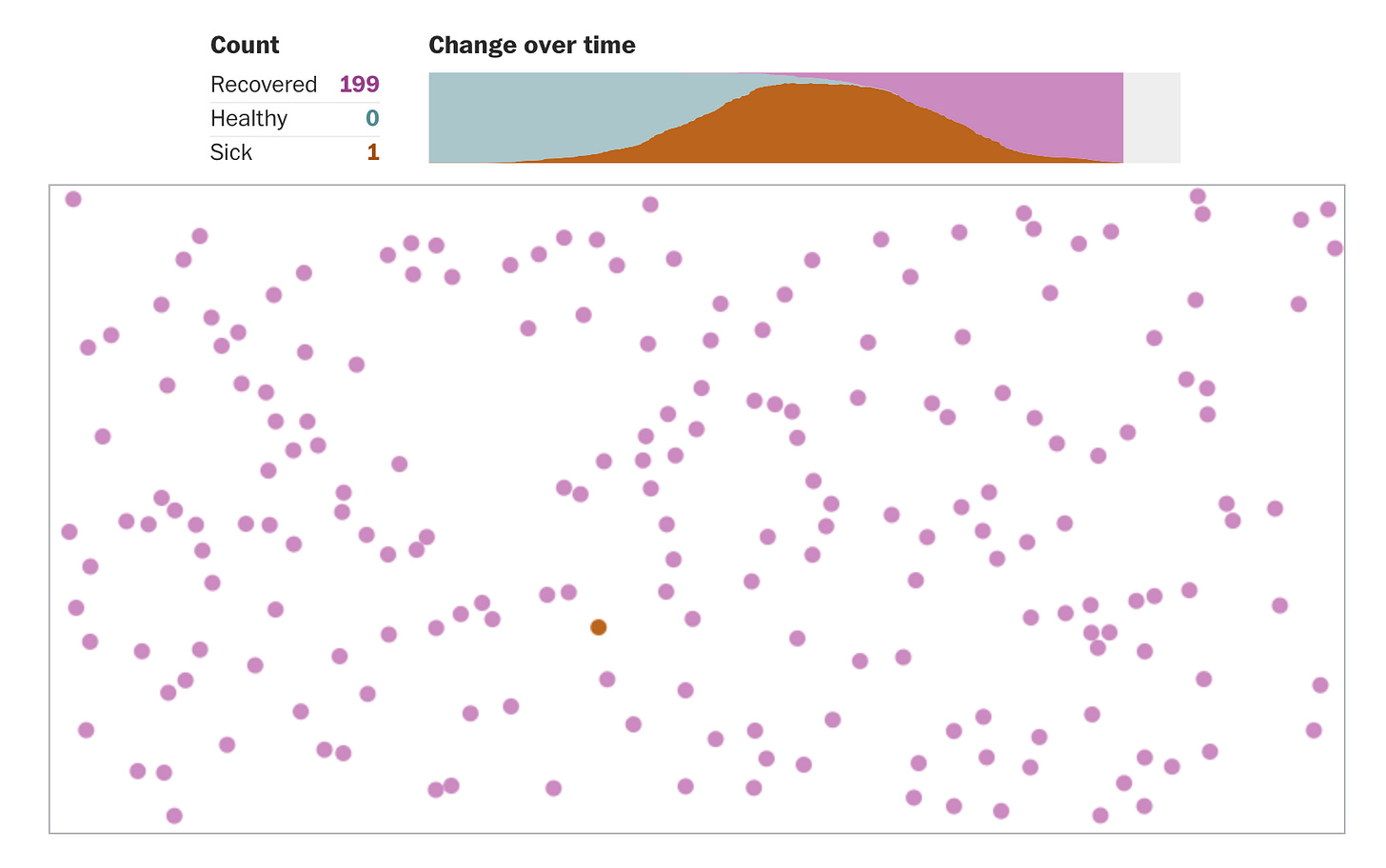 This is great work by The Washington Post, to visualize why we need to distance ourselves. Each simulation is slightly different, with the same basic results.
---
Asides
The Economist has a new newsletter (for subscribers) that goes behind their cover art, which is almost always amazing.

An extraordinary week to be launching this newsletter because we once again put the pandemic on the cover, for the fourth issue in a row. We have not done that since 2008, when we gave our poor readers six consecutive covers on the financial crisis.

Not only is Apple testing AR experiences around their HQ, they're doing so with modified Vive hardware, it would seem. Is Apple actually going to release a headset they didn't build to start? Then let HTC take the blame for the shortcomings, while they work on their own device to come later, ROKR-style?

Despite the chatter that Warner Bros. was thinking about bringing Wonder Wonder 1984 straight to a streaming service, they opted to push back the launch (until August) instead. Makes sense given how well it is likely to do in theaters. Still, this quote from the theater group is more than a bit much:

"To avoid catastrophic losses to the studios, these titles must have the fullest possible theatrical release around the world," a statement from the National Association of Theater Owners reads. "While one or two releases may forgo theatrical release, it is our understanding from discussions with distributors that the vast majority of deferred releases will be rescheduled for theatrical release as life returns to normal."

Scientists have created organic robots that are able to communicate with one another in ways that aren't entirely clear. What could possibly go wrong?

Apple supply chain sourcing guru Ming-Chi Kuo now believes the company is going to use their own ARM chips in several products next year, including desktop Macs.

Kuo believes that Arm-based processors will significantly enhance the competitive advantage of the Mac lineup, allow Apple to refresh its Mac models without relying on Intel's processor roadmap, reduce processor costs by 40 to 60 percent, and provide Macs with more hardware differentiation from Windows PCs.

Yeah, I mean it's pretty hard to see why Apple wouldn't move the entire line of products over to their own chips, if they're ready. The upsides are everything Apple cares about. I can't wait.
---
500ish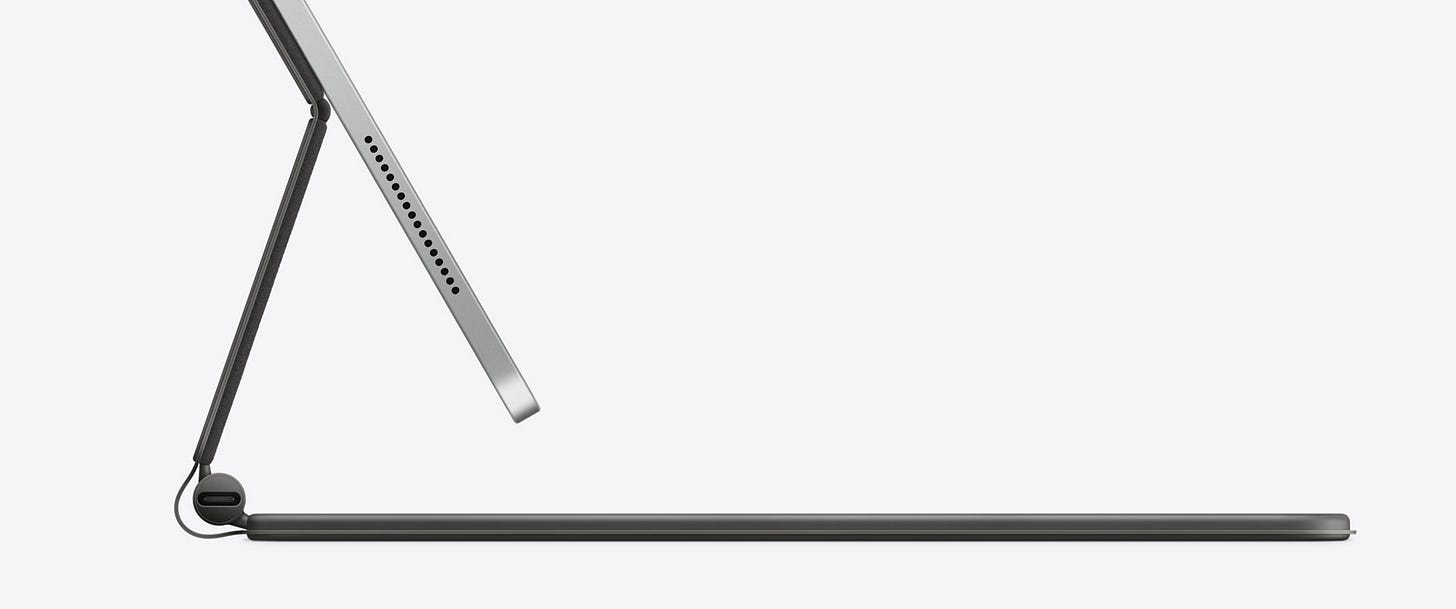 The iPad vs. MacBook debate boils down to iOS vs. macOS…
The theatrical window for movies was just thrown open so hard that it shattered…
---
AirPod Sharing
This seems like a distant memory at this point — people sharing germ-y things, kids being in school, etc. Still, pretty awesome classroom hack.