Discover more from 5ish
5 (or so) links and thoughts from M.G. Siegler
Over 8,000 subscribers
Whales & Bears
PrimeEx, Netflix Globes, Twitch Cloud, NeXbox, Day One, Day Zero, Halt
And now, the end is near. Of the year. Of the 2010s. Wild.
With the holidays just a busy workload, I've slowed down here a bit to end the year. But as always, I have some thoughts and plans for 2020 to attempt to make my cadence a bit more consistent. For now, two final dispatches. One tonight. One tomorrow. To clear out my Bear notes. To start anew.
---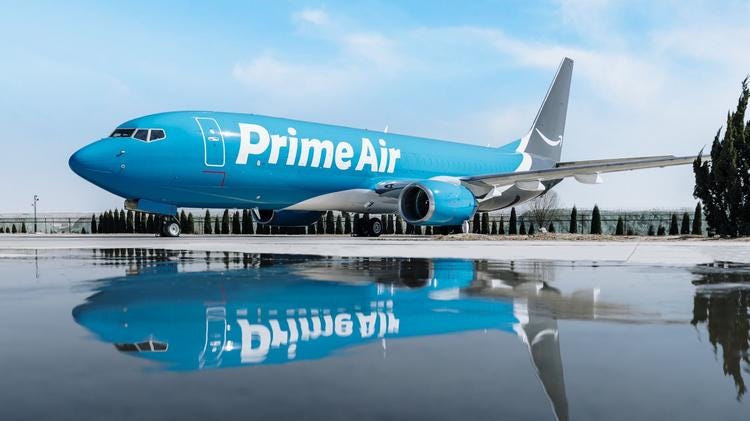 Michael Sheetz:
Amazon Logistics is the e-commerce giant's in-house logistics operation. Morgan Stanley said Amazon Logistics "more than doubled its share" of U.S. package volumes from about 20% a year ago and is now shipping at a rate of 2.5 billion per year. For comparison, Morgan Stanley estimates UPS and FedEx have U.S. shipping volumes of 4.7 billion and 3 billion packages per year, respectively."

"We see more of this going forward as our new bottom-up US package model assumes Amazon Logistics US packages grow at a 68% [compound annual growth rate from 2018 to 2022]," Morgan Stanley said.

That would put Amazon Logistics at 6.5 billion packages per year by 2022, according to the firm, far exceeding its estimate for UPS at 5 billion packages per year and FedEx at 3.4 billion packages per year.
This is both incredible, and not at all surprising.
What is mildly surprising is how quickly Amazon has played the long game. They didn't need to "disrupt" FedEx and UPS by competing directly with them, handling shipping for merchants outside their network. They just grew their network so large, so fast that the opportunity in their network will soon be bigger than it is outside.
With that in mind, you can read past statements as sincere — Amazon didn't want to run out FedEx and UPS out of business, they wanted to work with them as long as they could help them in their goals. As the above makes clear, that time is fading…
---
Speaking of doing the end-run-around old stalwarts, by Kimberly Nordyke , Jennifer Konerman, and Annie Howard report:
Leading the film distributors is Netflix with 17 nominations, including its first noms for best picture drama with The Irishman, Marriage Story and The Two Popes and for best musical or comedy motion picture for Dolemite Is My Name. Sony follows with eight total noms.

Netflix also leads the TV noms with 17, followed by HBO with 15.
This is incredible. Netflix not only leads in TV nominations, they lead in film nominations. As a reminder, seven years ago, Netflix had no original content. None. From zero to domination of two major creative categories in seven years.
The Squid, alongside that Whale, still got it.
---

Back to the Whale, the businesses that make sense (thanks to the foundation they've built over years) seemingly keep piling up:
Though you may not think of Amazon as a gaming company, it makes some sense that it wants to make a cloud gaming service and that it understands the massive potential for such a service. AWS already powers much of the internet (including huge games like Fortnite), which means Amazon already has a massive amount of infrastructure and streaming know-how at its disposal that it could use to try to make a reliable cloud gaming service. Amazon also owns Twitch, an incredibly popular live-streaming service, which probably gives Amazon a lot of intel about the types of games people might spend hours playing every single day.
I find the "cloud gaming wars" fascinating in that it's a natural reset of the order of things. If it works, it's not Sony, Nintendo, and Microsoft in the best position, it's Microsoft, Amazon, and Google. And it seems less of an if and more or a when. And it's yet another reason to watch Nintendo's moves in particular.
(BTW just got my hands on a Stadia which I'm excited to try out.)
---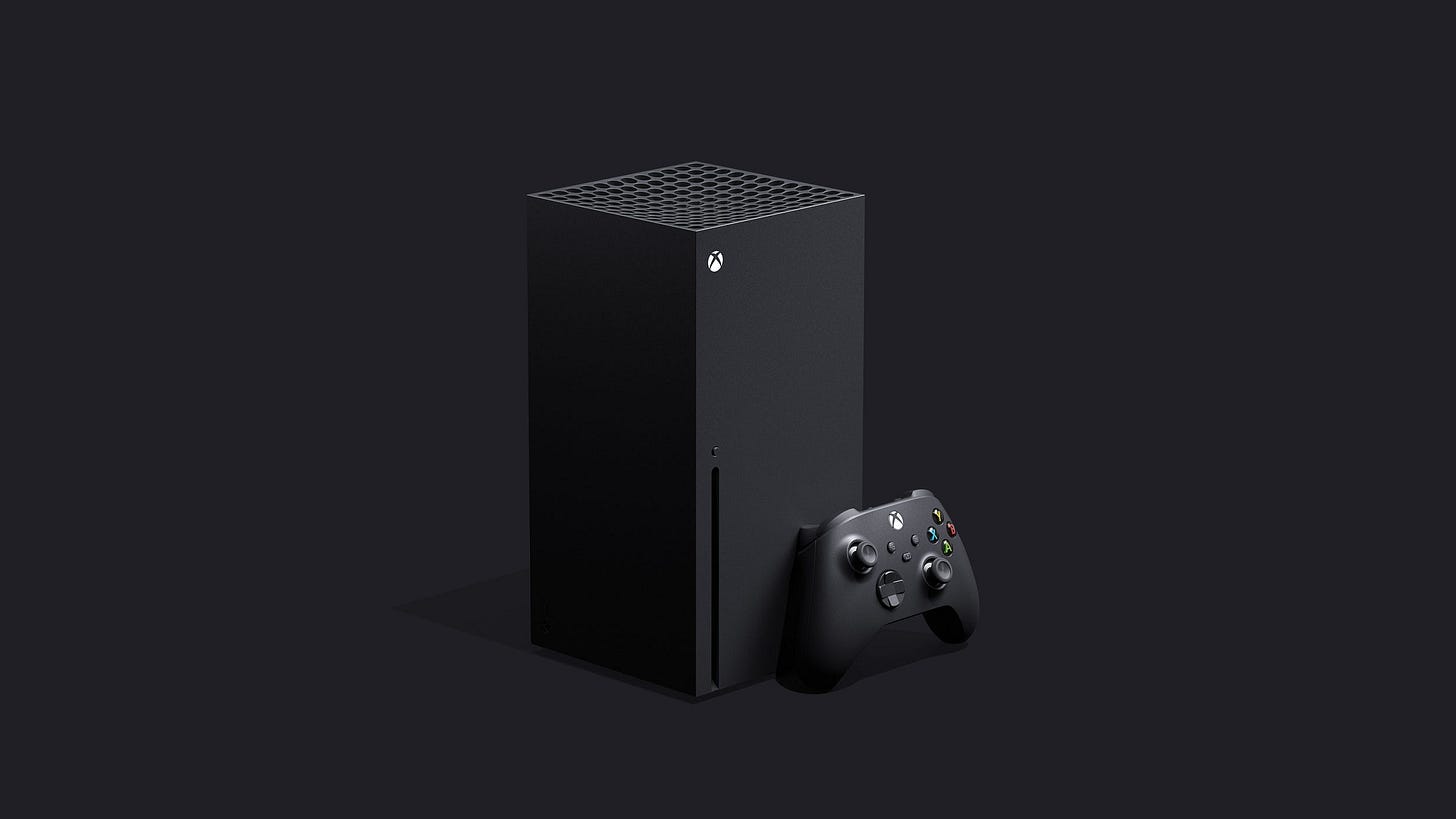 But ahead of the cloud-gaming future, Microsoft is forging ahead with their next "traditional" console, unveiling the 'Xbox Series X' — a very Microsoft name — or so we thought. Here's Ben Gilbert:
Upon closer inspection, it appears that "Xbox" is the make and "Series X" is the model — as if the name going forward for Xbox consoles is simply "Xbox."

It turns out there's a good reason for that.

"The name we're carrying forward to the next generation is simply Xbox," a Microsoft representative told Business Insider. "And at The Game Awards you saw that name come to life through the Xbox Series X."

Like the first Xbox generation, the next one is simply named "Xbox."

It's a basic rebranding, but a meaningful one that could help to simplify the Xbox line for interested consumers. It also clarifies Microsoft's intention with its console line.
As someone who has long wanted Apple to go back to calling each new version of the iPhone and iPad simply the 'iPhone' and 'iPad' (with variations for 'Pro' and whatnot), I should be a fan of this branding move. But Microsoft bungled the announcement and now people seem even more confused. Are we going to get a 'Series __' for every letter in the alphabet? Will this switch back to numbers?
Xbox NT 95 for Workgroups, anyone?
I do quite like the new design though!
---
Some people are lucky. Jeff Bezos is not one of those people. Unless it's in the Billy Zane way.
---
Speaking of making your own luck, here's Mike Bloomberg:
And then, when I was 39, I got laid off. I didn't know what I'd do next. But I had an idea to start a company — so I took a chance.
And:
I know how to take on the powerful special interests that corrupt Washington. And I know how to win — because I've done it, time and again. I will be the only candidate in this race who isn't going to take a penny from anyone and will work for a dollar a year.
His campaign is already proving divisive. But come on, part of this is enticing…
---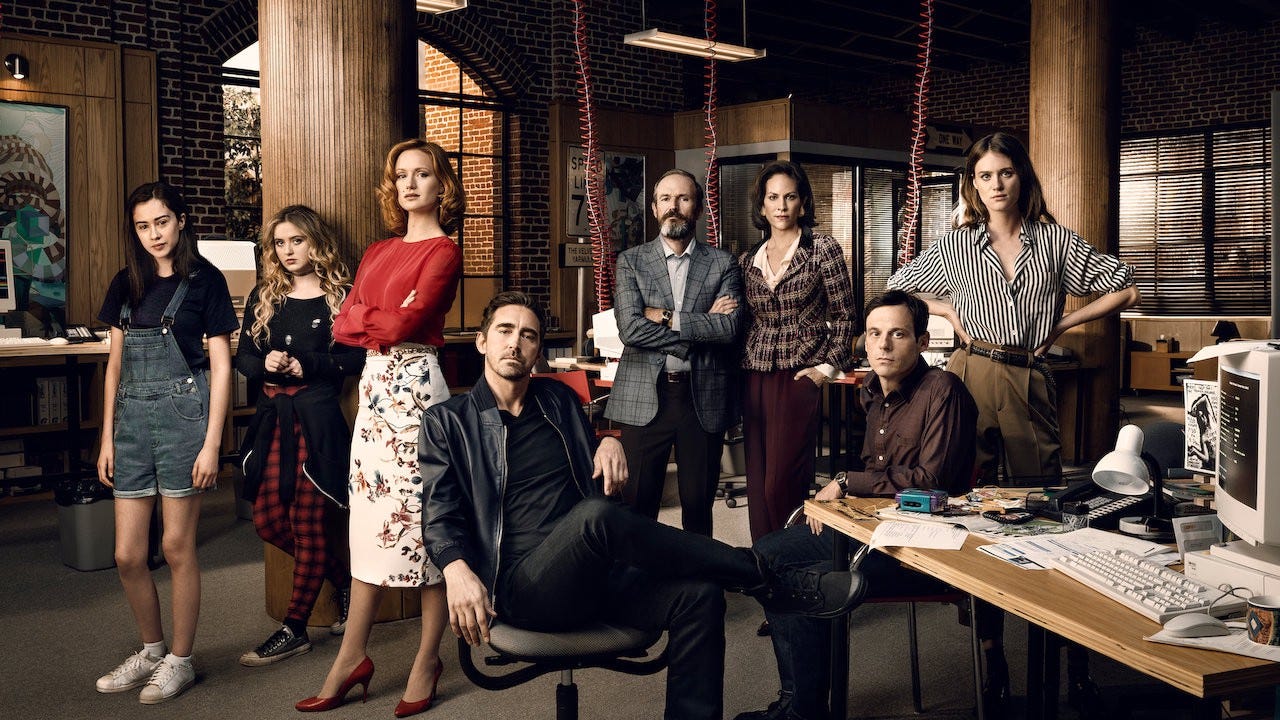 I have a confession to make. It's sort of a weird one. Despite it being one of my favorite shows of all time, I refuse to watch the end of Halt and Catch Fire…