Formatting
AirPod Latency, AirPod Sales, Tiffany's Touch, Boris' Britain, Australia in Flames
I tend to use the beginning of new years as forcing functions to try new things. And given that I'm some three-plus years into this newsletter "experiment", I figured this was as good of a playground as any. (Though it's a little awkward as there are now a few thousand folks reading this…)
One thing I want to play around with is formatting — I'm a sucker for trying to format documents so as to be easier to quickly parse. And given that I'm of the mindset that most newsletters are far too long, I'm attempting to streamline a bit.
One element I've always had a hard time reconciling here: links I feel like are worth your time to click on versus links to source material I simply wish to comment on. In an ideal world, you'd click on both, perhaps. But I want to be realistic in the difference between a news items, which you may have already read or know about, versus an unearthed gem of sorts. I'm not there yet, but I'm getting closer (in 'Links' versus 'Asides' below — but I'm also thinking about 'Links' versus 'Commentary' or the like).
I've also been thinking about cadence (as always). My current thought is that I'll send this out on Friday. A few thoughts here: first, I'd like to get back into a more regular flow of writing my 500ish posts, so I'd plan to do that roughly Monday to Thursday. That would leave 5ish to be a recap of other things I wanted to weigh in on but didn't get a chance to in longer form, and/or links to share. And, of course, links to the aforementioned 500ish posts from the week.
All of this is to say, expect more experiments over the next few weeks. And I appreciate the patience and feedback!
---
Links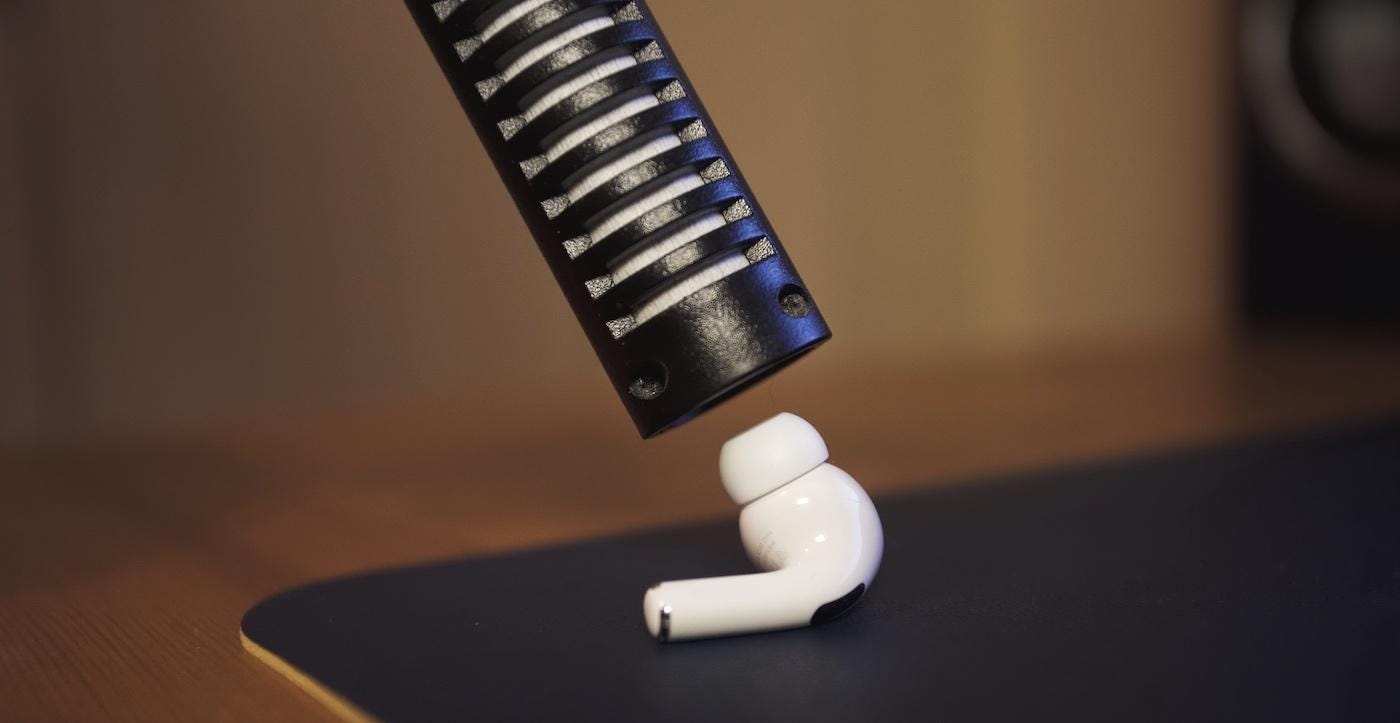 The Speed of Bluetooth Sound — Stephen Coyle did the work to see just how much latency the new AirPods Pro have versus the original AirPods (and the 2nd generation), and some other wireless headphones. The results are encouraging:
If it's possible for the trend line to continue in the same direction, the next generation or two of AirPods will be very exciting. Not being a VoiceOver user, I'm unsure how much AirPods Pro improve its user experience in real terms, but I think this general trend can only be for the good. Similarly, for mobile gaming and general user experience, this trend means that what is, in my opinion, the primary downside of Bluetooth earphones may be gradually disappearing.
Though still not all that great, especially for things like the typing sounds on the iPhone (I long to turn such sounds back on, but until the latency improves, it's silence).
iPods Pro — On the topic of AirPods, here's Horace Dediu:
Looking forward to the next quarter, I am expecting a 51% increase y/y for Wearables and 24% growth in Watch. This results in a Watch revenues about $5.2 billion and non-Watch $5.7 billion. Now if we assume $1.7 billion for non-Watch-non-AirPods (i.e. Apple TV, HomePod, Beats, iPod, other) then this quarter AirPods will have overtaken peak iPod.

Remember that iPod was the phenomenon which reset all expectations for Apple. It caused Apple to cease calling itself Apple Computer. It (at least psychologically) laid the foundation for iPhone and everything else that followed. In 2005 and through 2007 Apple was "the iPod company". I remember people working in a large search engine company calling Apple "that media company" as a result of over-intellectualizing iTunes.
The AirPods overtaking the iPod in terms of revenue is incredible. The AirPods overtaking iPod in terms of revenue this quickly and given the context Dediu mentions is astounding.
If Apple had the peak iPod numbers now, they would be a total afterthought and deemed a disappointment, if not failure, for Apple. Because they would have been nothing compared to the iPhone. But as with everything, it just speaks to how massive of a business the iPhone is — the iPod alone was bigger than many big, public companies, and now the AirPods are (for more context, see: below).
The Tiffany Touch — When I hear "Tiffany" I think of eggshell blue boxes and the movie/novel, but Vanessa Friedman opens the brand up to far more:
In 1885 Tiffany was responsible for the redesign of the Great Seal of the United States, which made the previously long and skinny eagle's legs more muscular, apparently to match the country's muscular ambitions. The design is still on the back of the currency.
And there are a handful of other didn't-know-thats in here.
It's Boris Johnson's Britain Now — Tom McTague with a more nuanced look at the person now firmly running the UK:
Since becoming prime minister, Johnson has run a focused—even boring—campaign to turn the minority he inherited into his own majority. This is more like the real Johnson. Beneath all the hair and clothes, missives on Greek philosophy, and endless parking tickets is a man obsessed with his own elevation, who has won every popularity contest open to him, from school to university and on into politics, through to this moment, the only race that has ever really mattered to him. He is a man who exudes chaos, but has proved again and again that he is prepared to show enormous discipline, gather experts around him, empower them, and listen to their advice. He will bristle at and ignore anyone with real authority over him—whether a party leader or newspaper editor (he was previously a journalist)—but once he is the authority, he does not hesitate to ask for help. In the words of one former colleague who worked with him closely, he is a terrible team player, but a good team captain.
Mainly linking to this since I had linked to a less nuanced, though still provocative post on Johnson several months back.
The Age of Fire — Just an absolutely harrowing situation in Australia. Here's Matt Simon with some context:
If you want to gaze into the hellish future of human existence on Earth, look to Australia. Huge bushfires have torched 14.5 million acres since September, killing at least 18. Vast plumes of smoke are pouring into major cities along the east coast, imposing a dire respiratory health hazard on millions of people. And Australia's fire season is just getting started.

For Californians, the scenes are familiar. The same cabal of factors, including climate change and land management, is conspiring to produce bigger wildfires that consume more land and kill more people. We have entered the age of embers—think of it like an ice age, but with flames, what fire historian Stephen Pyne calls the Pyrocene.
There might be a billion animals dead at this point. That is not a typo. If you can do so, please donate.
---
Asides
---
Posts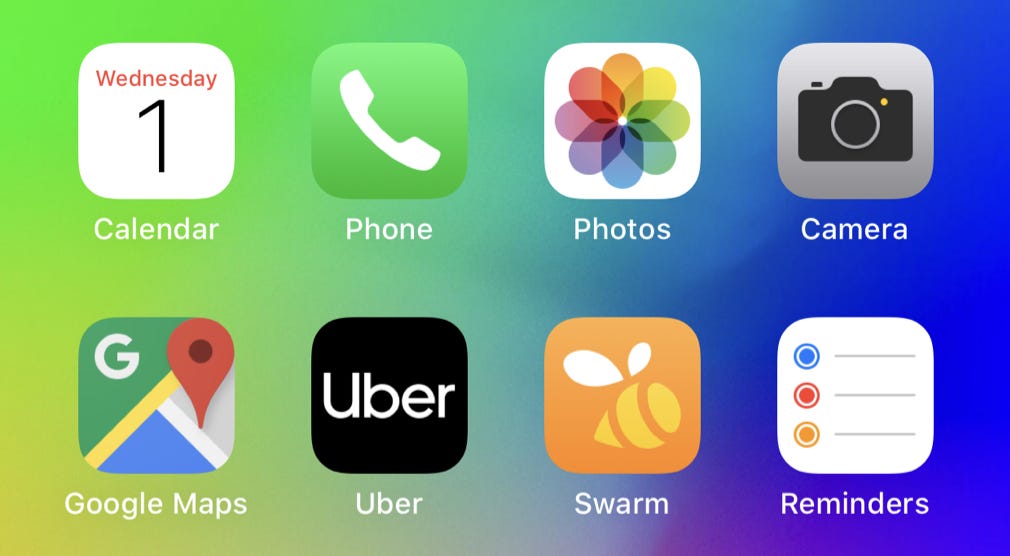 Looking Back On My 2019 Homescreen — My annual look back on my iPhone homescreen apps for the year.
Offline Curious — What if the kids of today naturally rebel against our screen-addicted ways?
A Surprising Morning Jolt — The Morning Show, the first high-profile show from Apple TV+ stumbled out of the gate, then got good?
---
Potpourri