Discover more from 5ish
5 (or so) links and thoughts a week from M.G. Siegler
Over 8,000 subscribers
It's Time to Buzz the Tower
Surface Duo, Surface Duo Duo, Apple Films, Apple Plus Plus, Feige Star Wars, Top Gun 2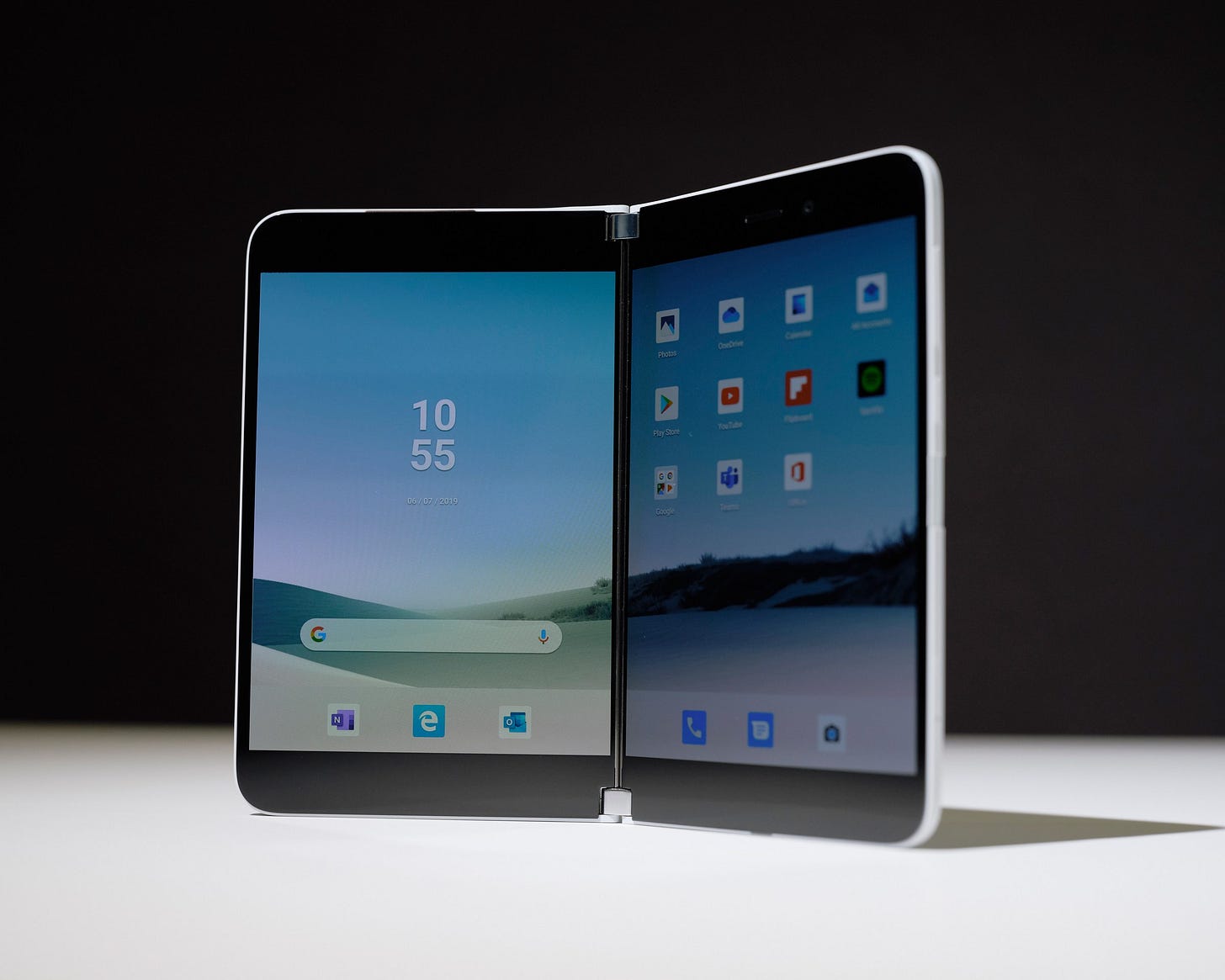 Lauren Goode:
Never mind that it doesn't run Windows but Android, the most widely-used smartphone operating system in the world. When you ask Panay what this thing is, this device with a seam and two side-by-side screens that fold closed like a soft Moleskin notebook, he immediately says, "It's a Surface." The company's chief executive, Satya Nadella, underscores this distinction, saying Microsoft is not entering an existing device category; instead, it's trying to create a new one.

But there is no doubt that this is a phone. And not just any phone but the long-rumored Surface phone. Though it won't ship for a year, its mere existence is a big deal for Microsoft. It's also a riddle.
I don't get it. Look, I'm all for thinking-outside-the-box and coming up with new and interesting technology, but this just seems… weird? Like a product conceived in a lab, rather than one solving a problem. Like a product born of the old Dr. Ian Malcolm adage: "Your scientists were so preoccupied with whether or not they could, they didn't stop to think if they should."
Holding the Surface Duo is like holding a shell of the past crammed with a not-fully-realized future. It's as thin and light as a pocketable notebook, the paper kind, but from every angle it gleams with screen and glass and shiny hinges. Like the Neo, it shouts "Surface!" because of its large logo, etched in glass. I know it's a phone—it works like a phone, it is littered with Android apps—and yet I can't imagine making many phone calls from it, or going for a run with it, or, in its current form, using it as my only camera on vacation.

In fact, the most recent version of the Duo doesn't have a rear-facing camera. The way it's currently designed, taking a picture would require the person using it to open the Duo, unlock the Duo, and flip its front-facing camera to the back of the device. I question this, more than once. Panay says it's still early days, that the camera may change, that he's nervous to reveal this so far in advance because it exposes the design to competitors.
It sounds like a phone minus the key parts of a phone and a tablet minus the key parts of a tablet. Again, I know they're saying this is a new type of device. And I know Apple has said that for years with the iPad. But the key to the iPad are the apps tailored to run on it. Are any apps going to be tailored to run on this?
That's the main question, I suspect! And I'm not sure Android — it runs Android!! — will help them much in this regard. Weird.
---
Now that I've shit all over the idea of this device, here's Tom Warren who sat down with device lead Panos Panay:
Panay says Microsoft has been working on the Surface Duo hardware for three years, so this isn't an immediate reaction to Samsung's Galaxy Fold, Huawei's Mate X, or anything else. The company has opted for two separate glass displays instead of folding plastic, and it's clear Microsoft thinks this is the way forward until foldable display technology is really ready. Panay says the hardware won't change between now and when the device launches, although there's a Snapdragon 855 processor inside right now that could be upgraded to Qualcomm's latest next year.
Not only is it clearly true that this wasn't a reaction to the Galaxy Fold, this general concept — two separate screens that fold together, rather than one screen that folds — seems like a much better idea, at least for the foreseeable future. Samsung was trying to be too cute and too clever and paid the price, quite literally.
There are still cool things you could do with two screens that fold together, I imagine! The key is could, see: above and below:
But that's why the company announced the Surface Duo and Surface Neo a year before they'll ship. Microsoft needs developers to support its dual-screen ambitions, and it wants to get the Surface Duo and Neo devices out there so that apps can be created for when they arrive in late 2020. "I don't know if we did the right thing or wrong thing, but we do want to inspire developers," says Panay. But what he will say is that "The hardware won't change at all," between now and when the device ships next year.
I was quick to make fun of this timetable — and it is a little silly — but at least they apparently have the right reasons for doing it. They need developers on board with this product or it's DOA.
---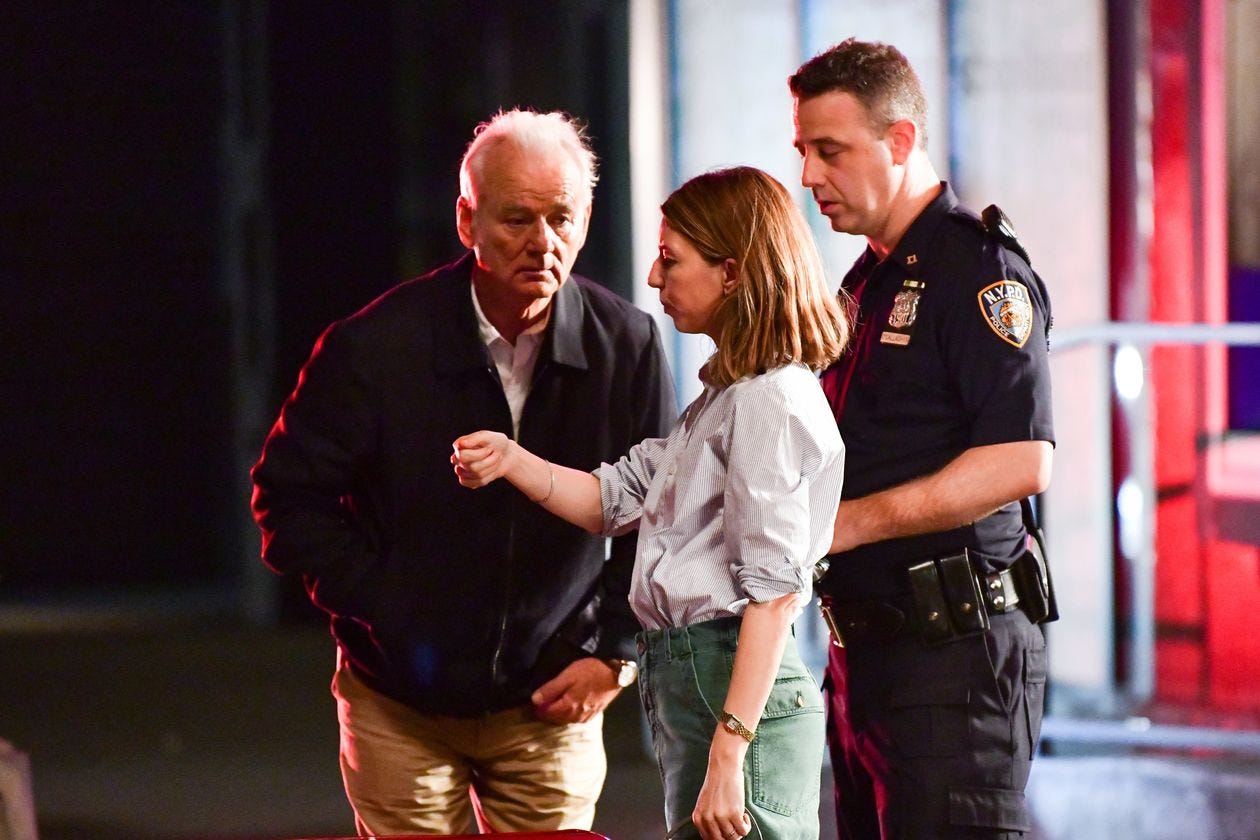 Tripp Mickle and Erich Schwartzel:
Rather than see the theatrical strategy as a moneymaker, Apple is more interested in the prestige and brand-building that can come with a glitzy theatrical release, according to people briefed on its plans, a strategy similar to that of Amazon Studios. Like Apple, Amazon has focused on character-driven movies largely abandoned by major studios, producing big-budget features in the vein of "The Avengers" or "The Fast and the Furious."

Apple has pitched itself as a place where artists can share their stories with the world, putting pressure on it to define a theatrical-release plan for producers and directors, said agents and Hollywood advisers. They said a strategy would help the company woo content creators who still want to see their work on the big screen. and be taken more seriously as a player in film.
It is going to be so weird to see Apple movies in theaters. It feels pretty far afield of what it is that they do. (Then again, iTunes/Apple Music/etc.) It is even weirder that they're not interested in doing this to be extremely profitable. (Then again, iTunes/Apple Music/etc.) That said, the anti-Netflix model here makes sense. As does the type of film they're going after — the type that sadly isn't really for theaters, anymore. All that matters in these early days of the streaming wars is attracting the best talent and thus, the best content. Apple has had some issues with this early on. So it's time to pull out some more carrots…
Speaking of Netflix, their theatrical attempts are going… oddly? To Broadway! As Brent Lang reports:
However, Netflix's business model, which calls for a shorter than usual "exclusive" theatrical run, means that major chains such as Regal, Cinemark, and the aforementioned AMC refuse to show the movie. It will screen solely in cinemas for 26 days, in venues such as iPic and the Alamo Drafthouse, before debuting on the Netflix. Most movies screen for roughly 90 days before bowing on home entertainment platforms.

The Belasco will screen the film from November 1 to December 1, marking the first time the Broadway theater has welcomed a film. The film will be released globally on Netflix on November 27, 2019.
Martin Scorsese can't be happy, but I, for one, will absolutely go see this at Alamo Drafthouse, just to support the theater chain not being so ridiculously shortsighted in their windowing demands. Also because it's just a great experience for what is apparently a great film.
---
Speaking of Apple TV+, here's Anna Nicolaou and Patrick McGee:
Apple's hopes of creating a super-bundle of media content for one flat monthly fee have run into early opposition, with some record labels nervous about the prospect of offering their music for a lower price.

The iPhone maker has recently approached the big music companies about bundling together Apple Music and Apple's upcoming television service, but the two sides have not yet discussed a pricing formula, said people familiar with the negotiations. Talks are at an early stage, they added.
Obviously, Apple is going to do this — yes, the start of "Apple Prime" — and obviously the music labels are not going to be happy about this. Direct compensation aside, it could serve to further "cheapen" the perceived value of music if not handled correctly. I'm honestly just sort of surprised that Apple even asked the labels for permission here (it feels like a certain someone would not have). Perhaps they have legal obligations, but come on, this is happening.
---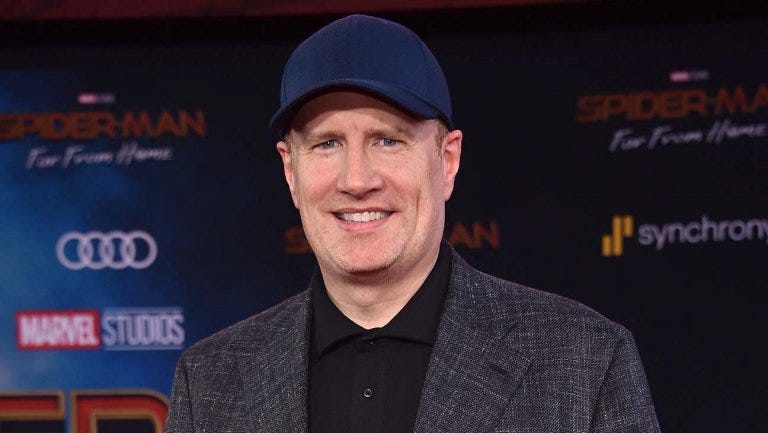 Kim Masters:
So far, the four Star Wars films produced for Disney have grossed almost $4.5 billion. But while Feige has presided over a mostly seamless rollout of one Marvel hit after another, reinvigorating the Star Wars franchise has not been a smooth process. Gareth Edwards was effectively sidelined as the helmer of the troubled 2016 film 'Rogue One', with Tony Gilroy shooting the third act. The film went on to become a hit, generating strong reviews and $1.1 billion worldwide.

In June 2017, Kennedy fired directors Phil Lord and Chris Miller during the production of the prequel film 'Solo' amid concerns about their improvisational style. Ron Howard stepped in to finish the film, which grossed $392.9 million and became the first Star Wars pic to lose money. In September 2017, 'Jurassic World' filmmaker Colin Trevorrow was dropped as director of 'Star Wars: Rise of Skywalker' and replaced by J.J. Abrams, who successfully relaunched the franchise in 2015 with 'The Force Awakens'. Disney chairman Bob Iger conceded in a recent New York Times interview that the studio had made mistakes. "I just think that we might've put a little bit too much in the marketplace too fast," he said.
There is a lot going on here.
First, is this really just a delicate way to sub-in Feige for Kennedy as the on-going shepherd of the Star Wars franchise? All the statements say more or less "no" but definitely not as forcefully as they could. Alan Horn's statement in particular is interesting — it reads a lot like Kennedy is moving on to other projects, like Indiana Jones, without explicitly saying this because a number of the Star Wars projects she greenlit are in production already.
Second, there is being stretched thin, then there is Kevin Feige. Perhaps they're waiting to reboot the Fantastic Four yet again until they can used Feige as the model for Mister Fantastic? Seriously, how much can this guy realistically have on his plate? Is he going to give up the next phase of the MCU to someone else?
Third, assuming this isn't just a thinly veiled way for Feige to take over all of the Star Wars universe for Disney, how many various Star Wars projects do we actually need? I've been skeptical of the over-saturation claim — I just think Solo wasn't a great movie, and more importantly, wasn't needed — but is Disney trying to push the bounds ever farther here with the Johnson project, the Benioff/Weiss project, The Jon Favreau show, Ewan McGregor's thing, etc?
Maybe Feige just really wanted to do a Star Wars movie? And lord knows, with the mind-boggling success and execution of the MCU, he can do whatever he wants.
---
And since we're on a movie kick, I had meant to link to the trailer for Top Gun: Maverick several weeks ago. And so I will now, mainly because there are at least a hundred ways this movie can go violently wrong, and yet the trailer looks… good?!
Last week I wrote about why not only is it okay to revisit The Matrix franchise, it's a good thing given the bitter taste most of us were left with. That's obviously not the case with Top Gun. It seems likely that the original wrote checks that the sequel can't cash. But, having a solid trailer is a good first step.