Discover more from 5ish
5 (or so) links and thoughts a week from M.G. Siegler
Over 8,000 subscribers
The iPad Airborne
Mad Magazine, Hamilton, Wimbledon, Marvel's Moves, Netflix's Moves
Just back from a weekend trip to the Pacific Northwest — congrats Gabe & Ashley! — where I had to take my first-ever seaplane ride. As a result, I had to pack light. And given that I was traveling with an infant, which requires a vast array of travel baby gear, I had to pack very light. This meant a minimum amount of gadgets.
When traveling solo, for work, it has gotten bad. I now often take a MacBook and an iPad and a Kindle. I'm honestly mildly ashamed to admit that sometimes I'll even throw in a second iPad — I do love the mini — oh yeah, and the iPhone, of course. But again, that was a no-go this trip given weight requirements for carry-ons. So I made do with two: the iPhone and one iPad. And it was… totally fine. It always is. But I'm always worried about that one extenuating circumstance where I'll want that one gadget I don't have on me.
More importantly, it was a dry-run of going iPad-only for when iOS 13 launches. Once it's out there, with its web browser that behaves like a real web browser, I'm pretty confident I can ditch the MacBook for trips. I've been experimenting with this for years at this point, but the browser is almost always the thing that brings me back. The latest builds of the iOS beta are getting stable enough where I can see a future where this will now legitimately work. The true test will come at vacation time in August, when I suspect the beta builds will be pretty close to prime time. I'll report back.
---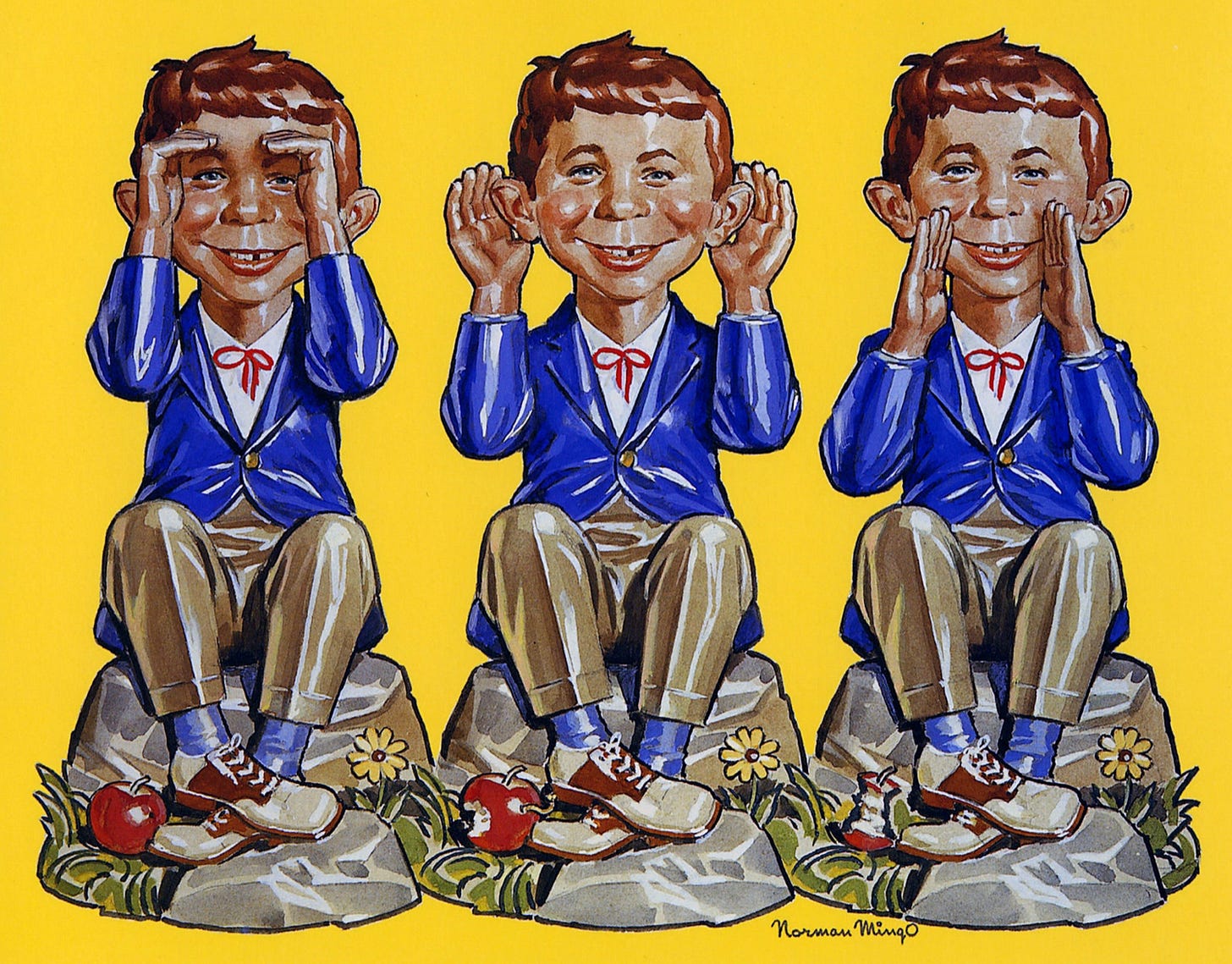 Marc Tracy on the (effective) end of Mad Magazine:
A giddy creation of the staid 1950s, Mad hit a circulation peak of 2.8 million in 1973. Since then, it has steadily lost readers and relevance, a victim of its own success, as its skeptical, smart-alecky sensibility became dominant in American popular culture. "Saturday Night Live," "The Simpsons," "South Park" and The Onion can be counted among its heirs, and the magazine influenced a generation of comedians and comic artists, from the late-night host Stephen Colbert to the comics writer Art Spiegelman.

"Mad was, 'The entire adult world is lying to you, and we are part of the adult world. Good luck to you,'" Mr. Spiegelman said in an interview on Friday. "I think that shaped my entire generation."
Unlike so many relics of an age gone by, it's not that the world has moved on from Mad Magazine, it's that the world now is Mad Magazine. I think about this from time to time with other satire as well — Mike Judge's Idiocracy comes to mind — which I believe would be decidedly less funny these days because so much of that world has come true!
(As an aside, this is also related to why I don't watch Judge's Silicon Valley — I just know it will both hit too close to home right now, and I'd prefer to watch it in hindsight, as a documentary.)
But macro trends aside, let's not overlook another big reason why Mad is going away — it was owned by DC Entertainment, which was then owned by Warner Bros., which is now owned by AT&T:
Since the deal went through, AT&T has been cashing in on its new entertainment-industry wares, selling tie-in merchandise like a Harry Potter wireless charger for $45 (cheap!) and a "Game of Thrones" computer cable for $20. The company will also give one of its lucrative DC properties, Batman, a boost at Comic-Con International in San Diego this month with the Batman Experience Powered by AT&T — "a massive, interactive exhibition," according to a corporate statement.

Mad, which aimed a peashooter at corporate hype, would seem to be an awkward fit in the blockbuster-centric media universe of 2019.
Yeah, the Mad Magazine fidget spinner likely wouldn't move the needle for AT&T — unlike, say, the GoT computer cable, which is clearly going to be a huge seller for a multi-billion dollar corporation.
I used to live for the trip to the drug store when I was a kid to see what the new Alfred E. Neuman cover would be. And it was a truly great day when I could convince my parents to buy me an issue to be able to do the fold-in. Also, Spy vs. Spy — I even used to love the NES game! A sad day.
---
Valerie Bauerlein and Cameron McWhirter on the ramifications of the success of Hamilton, the musical:
Veteran Jefferson interpreter Bill Barker recently joined the staff at Monticello as curators experiment with programming to reverse a recent dip in attendance.

He made his debut at a "Pursuit of Happiness Hour" on the west lawn earlier this month. Mr. Barker prepared a raft of responses to questions about Hamilton, ready to respond to questioning teens while posing for selfies.

But he says it is possible that Jefferson ends up a bad guy to a generation of fans.

"They would have every right if they should choose," he said, speaking in character. "That is a founding principle of our nation."
Also:
One Philadelphia-area Franklin impersonator, Brian Patrick Mulligan, posted a tongue-in-cheek audition video when casting directors were recruiting for a "Hamilton" national tour. His headshot was the $100 bill. The show's casting director didn't reach out, and Franklin remains absent from the show.

Mr. Mulligan has a few gigs lined up as Franklin, including an AARP internet commercial. He supplements his income with appearances as his backup characters, which include Winston Churchill and Uncle Fester from the 1960s sitcom "The Addams Family."
Not quite the prestige of a massive Broadway play.
The runaway Broadway success of "Hamilton: An American Musical" has meant that Thomas Jefferson isn't even the sole attraction in his own home-turned-museum, Monticello. Visitors can take a standard house tour—or a $40 "Hamilton Takeover" one that focuses on Jefferson's political adversary.
In the man's own home! In all seriousness, it is wild how much one piece of art (albeit one that broke into pop culture in a major way) can alter the perception of history.
---
The Economist seems even more bullish on the Wimbledon final than I was — and they bring the data to back up the claim: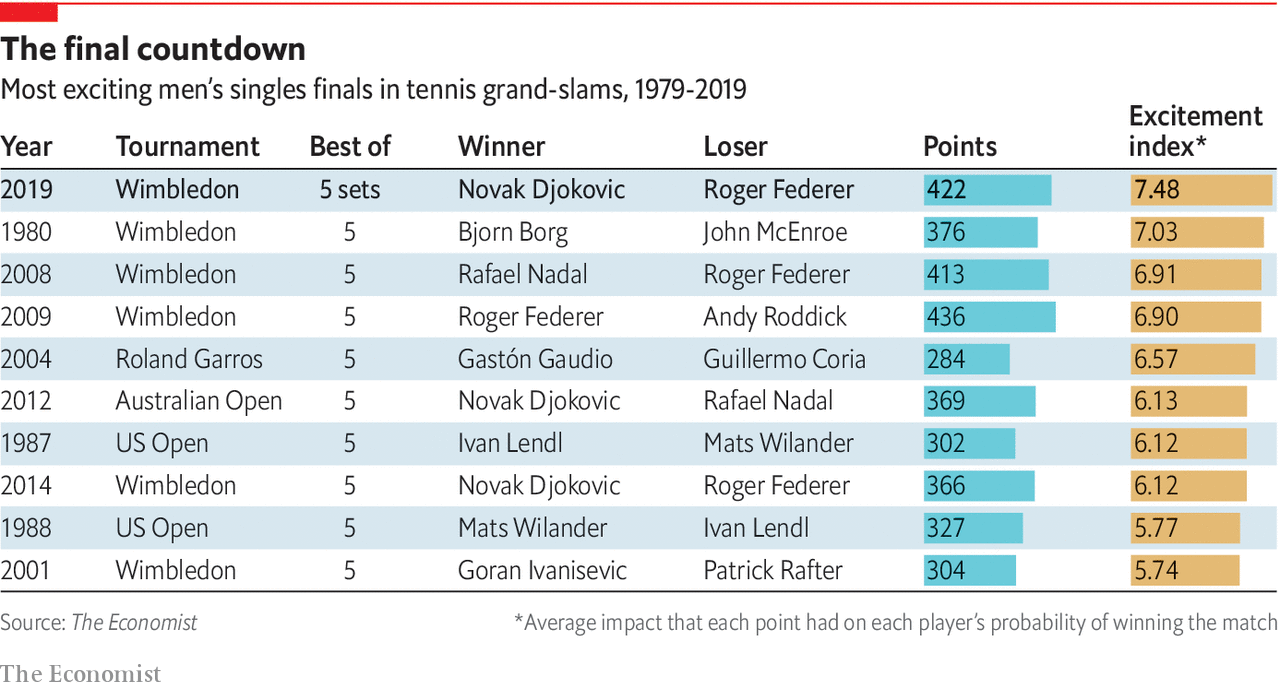 ---
Joanna Robinson has the right take on what Kevin Feige and Marvel unveiled at Comic-Con this year:
Everyone quickly realized that some of those spots belonged to the Disney+ TV shows Marvel Studios will be running. In other words, Feige made zero distinction between fanfare for the future of Marvel TV and fanfare for the future of theatrical releases. That lack of separation alone is groundbreaking. There were other ways in which this announcement blurred the line between film and TV. For instance, the Disney+ TV shows will, yes, feature stars of past Marvel movies like Tom Hiddleston as Loki or Sebastian Stan as Bucky. But Feige also made it clear that once a Marvel movie star moved to Disney+ , they weren't stuck there or somehow "demoted" to TV. Elizabeth Olsen's Scarlet Witch, for instance, will helm her own TV show called WandaVision in Spring 2021 but she will also co-lead a new Doctor Strange sequel slated to debut in May 2021. These are new levels of synergy we've never dreamed of.
So much is written about Disney's dominance of the box office (and rightfully so), and Netflix's dominance of streaming (and rightfully so), but very few people connect the dots between the two. But that's clearly Disney's entire bet here (well, and tying this all into theme parks and merchandise, and everything else they can do that no competitor can match). As the Comic-Con announcement made clear, the answer to: should we release this in theaters or on streaming? Is about to be: "yes" — for Disney at least.
The two outlets will augment one another. And if something explodes on Disney+, guess what? The sequel (or next season) can be a movie. Netflix is going to have to keep innovating in other ways…
---
Speaking of Netflix, here's Edmund Lee on Netflix's latest numbers:
The second quarter is typically Netflix's weakest time of year, but its performance this time was unusually poor. In its letter to shareholders on Wednesday, the company acknowledged that the higher subscription cost had something to do with its failure to meet second-quarter expectations.

Netflix also noted that its second-quarter slate of programming, lacking fresh episodes of two of its original hits, "The Crown" and "Stranger Things," was not as robust as it had been the previous quarter, which most likely figured in the disappointing results.

In addition to losing domestic subscribers, Netflix significantly undershot the number of customers it had expected to sign up worldwide for the period. The company reported that it had added a total of 2.7 million subscribers for the three months ending in June, well short of the five million expected by investors and down from the 5.5 million it had brought aboard in the first quarter.
Yeah, I mean, a hits-driven business is a hits-driven business! The latest season of Stranger Things was a massive hit, but launched too late to impact the quarter, so it will show up next quarter. (I'd be more worried about the worldwide performance numbers here.) But I also just continue to believe that Netflix is one of those companies that is constantly one step ahead of both the competition and conventional wisdom.
I'm eager to see what's next — especially in the face of an assault from Disney, and Apple, and Warner, and the like about to get underway. As Hastings notes, this competition isn't zero-sum — but it's also not infinite sum: there will be decisions that households have to make with so many streaming services now asking for money. I still think Netflix is the "must have" but I also think Disney will make a compelling case (see: above) for that A1 slot as well…
---