Discover more from 5ish
5 (or so) links and thoughts a week from M.G. Siegler
Over 8,000 subscribers
Search Your Feelings...
Disney's Nintendo, Disney's Marketing, Apple's Imagine, NBC's Free Peacock, and Benioff & Weiss Free of Star Wars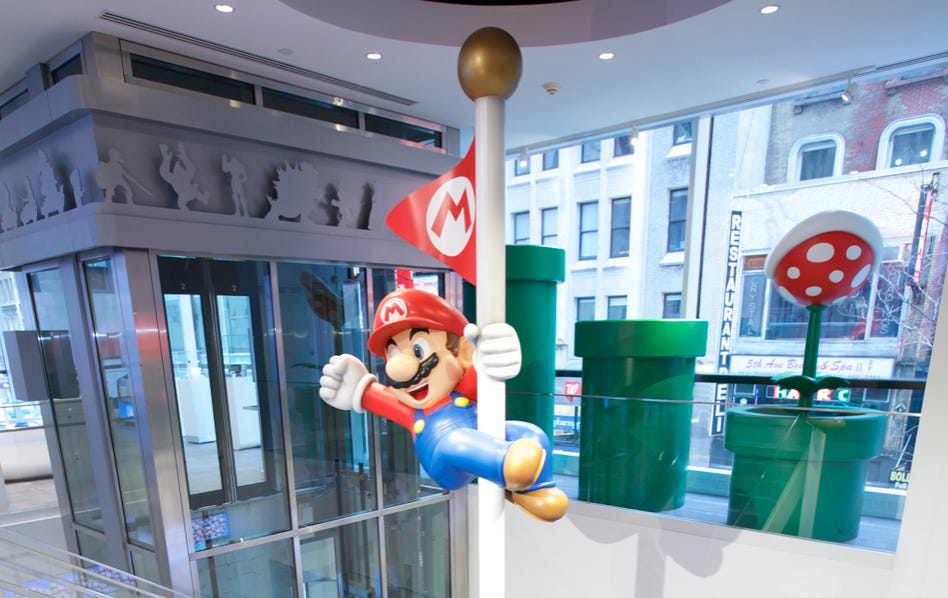 Alex Fitzpatrick:
These Nintendo diehards in part explain how the Kyoto-based company is thriving despite the naysayers who were forecasting doom just a few short years ago. Ostensibly a video game company, Nintendo is really an intellectual property company, converting people's seemingly endless love of its characters into profit. Its rebound is also thanks to the Switch, a hybrid console and mobile device that has resurrected Nintendo's hardware business, and, by extension, the rest of the company. The Switch is the exclusive home of some of today's most well-reviewed games, and fans love that they can carry it around with them on their commutes or vacations. Nintendo, arguably stronger than ever and with a stock price flirting with its five-year high, is now looking for yet more ways to tap its deep bench of intellectual property (IP), from a theme park to a feature-length film.
"An intellectual property company" — "looking for yet more ways to tap its deep bench of intellectual property, from a theme park to a feature-length film." Boy, who does that sound like? 🐭 I've long argued that Apple should buy Nintendo — and I think it increasingly makes sense. But there's another company where it may make even more sense… At the same time:
Furukawa's plan can be summed up in a single word: Entertainment. While other game companies have focused on pushing the underlying technology as far as it can possibly go, Nintendo is content to produce or promote games that are just plain fun. Furukawa says this thinking dates back through the company's considerable ages. (Nintendo was founded as a playing card company in 1889, the same year Benjamin Harrison was sworn in as the 23rd President of the United States.) "Not just streaming, but any kind of new technology, whether that is going to be appealing to the consumer or not really depends on the quality of the experience that we can provide," says Furukawa. "Nintendo continues to search for new ways to enhance the fun that people can have through their gaming experience."
This strikes me as exactly the right thing for Nintendo to be focusing on. They've long ceded the power and spec race to Sony and Microsoft, as the Switch proves, all they really need is to make fun games based on their great IP.
I still just continue to think others could extend that IP as they want to a bit further, faster — one company in particular….
---
This company, for instance. Here's Brooks Barnes on their latest push:
Walt Disney World in Florida has more buses (many of which are being wrapped in Disney Plus ads) than the city of St. Louis. Disney Cruise Line carries more than 12,000 passengers at any given moment, and sneak-peek screenings of the Disney Plus show "High School Musical: The Musical: The Series" are being offered onboard. Disney Store locations, which still number in the hundreds, will host "pep rallies" for the series. Starting on Nov. 12, more than 7,000 of Disney's retail employees will be wearing lanyards emblazoned with a QR code; shoppers can scan the code with their smartphones and connect directly to a Disney Plus sign-up page.
There has been a lot of talk about how Disney will have a far easier time entering the streaming race thanks to their stellar catalog of IP, but this element, the marketing element, strikes me as nearly as important.
Weather forecasters at Disney-owned ABC stations in cities like Houston and Chicago will be chit-chatting about Disney Plus. It is expected to come up on "Live With Kelly and Ryan" and "The View." Guests at Disney World will see it everywhere — on billboards, on parking lot trams, on the info-channel in more than 22,000 Disney-owned hotel rooms.

Disney will also push out information about Disney Plus on almost all of the company's social media accounts, which combined have more than a billion followers. (Tinker Bell has 9.3 million friends on Facebook alone.)
Yeah, if you're Apple, you compete with this with a billion-plus devices. If you anyone else… Good luck?
---

Speaking of Apple's billion-plus pockets, here's Lucas Shaw and Mark Gurman with an interesting tidbit of a scoop from the days leading up to the Apple TV+ launch:
Despite the failings, Apple never gave up on Hollywood. Cue pursued Imagine Entertainment, the production company led by Brian Grazer and Ron Howard. The two producers, whose work includes A Beautiful Mind, Friday Night Lights, and Empire, flew to Cupertino to present Cue with a term sheet. Cook, a Happy Days fan, made a surprise appearance to see Howard, who played Richie Cunningham on the 1970s sitcom. But Grazer and Howard eventually bailed after deciding they didn't want to be employees of a large company, according to people familiar with the negotiation.
This report is a little odd for a few reasons — first and foremost, why would Grazer and Howard fly to Cupertino to present Cue with a term sheet? That reads as if they were trying to acquire Apple! It's possible that Cue asked them for their terms, I guess — still, this would be a weird way to do a deal. Especially since it's then stated that Grazer and Howard bailed on it. Maybe it's just reported backwards?
Regardless, it is interesting in the sense that Apple would have owned not only a production house, but two big players in entertainment. If that sounds familiar, it should! Certainly a key part of the Beats deal back in the day was getting Dr. Dre, and more importantly, Jimmy Iovine, in house to help drive towards what would become Apple Music. Grazer and Howard could have given immediate credibility to an Apple TV+ project; a more forward-facing complement to former Sony execs Jamie Erlicht & Zack Van Amburg. Alas…
I do love the notion of Tim Cook being all jazzed about Happy Days though — that seems like a very Cookian anecdote. Also, killer GIF (above) for the piece!
---
In other streaming news, here's a scoop from Alex Sherman:
Previously, Comcast had planned on making Peacock free only to cable subscribers and Comcast broadband customers. The new plan, which is still under consideration, would be to give away the ad-supported Peacock streaming service to anyone who wants it. An ad-free product would also be available but will come with a charge, said the people, who asked not to be named because the discussions are private.
This makes all the sense in the world to me. We're already entering a world with subscription fatigue, and it's about to get a lot worse with Disney+ coming as a must-have this month. And next year will be worse still with HBO Max in the equation. NBC has some great IP, but that IP has always been free (ad-supported). Trying to charge for it now would seem like a harder hill to climb than the others.
This is this same general reason why I like YouTube's newer strategy of making their "premium" content ad-supported but allowing super fans and power users who either want content early or don't want to see ads, to pay. It's a freemium offering, in a way.
---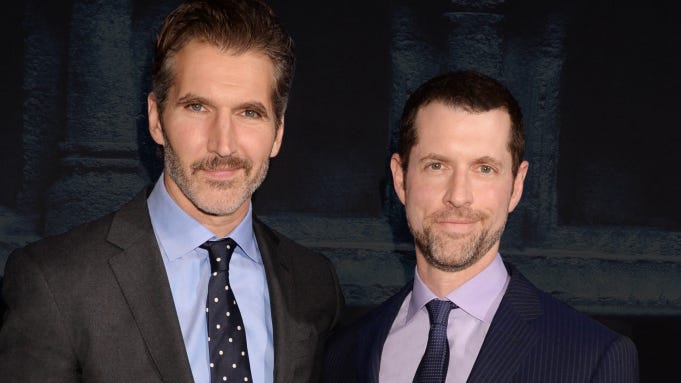 Geoff Boucher on the news that Game Of Thrones showrunners David Benioff and D.B. Weiss have decided not to create a new Star Wars trilogy for Lucasfilm/Disney:
"There are only so many hours in the day, and we felt we could not do justice to both Star Wars and our Netflix projects," the GoT pair said in a statement to Deadline. "So we are regretfully stepping away."
This is pretty surprising given that it's Star Wars. I mean, Star Wars! But it's hard to know whether to chalk this up to the duo's massive new Netflix deal, the continued mild turbulence at Lucasfilm with Star Wars, their own recent backlash post-Thrones ending (and subsequent HBO poor judgement), or all of the above?
A subsequent report by Justin Kroll would seem to suggest that you can sort of take them at their word — it was going to be years until they were done with the Star Wars work, and that would be a long time for Netflix to wait for all that money — but it also hints at all of the above. My gut instinct continues to be that Kevin Feige will be taking over the Star Wars universe sooner rather than later. Search your feelings, you know it to be true.
(As an aside, I've done far too many newsletters with headshots of Benioff and Weiss.)
---
500ish More Words on Streaming
Apple TV+ is cheap and barren. HBO Max is expensive and cheapening their brand. Everyone is confused…
---